Cody Johnson Shares How He Will Be Celebrating Thanksgiving
Cody Johnson's main priority is to "be present" during his much-needed Thanksgiving break.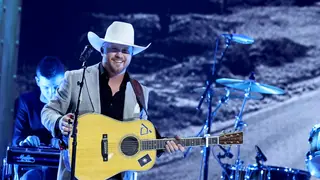 The Johnson household will be far from quiet this holiday season.
On the heels of receiving CMT Artist of The Year and his first-ever CMA Award with No. 1 hit "Til You Can't," Cody Johnson is gearing up to take a well-deserved break. Before the hitmaker can kick back and relax, Johnson told Country Now that he's rushing around preparing for Thanksgiving. 
"We're trying to clean up, but it's kind of been rainy and cold, and we've got a  fire going in the house and trying to get it ready," Johnson told the outlet. "You know, you never really realize how dirty a house is until you have families start to try to come over, and you're like, 'oh my God, that's gotta be picked up, that's gotta be put away.'" 
Johnson pointed out that he's like anyone else, a host with a long-running checklist before a family gathering. 
"We're just in the same mode everybody else is in," said Johnson. "You got all your family coming over and trying to make sure you went to the store and bought all the right food, and you got plenty of ice and drinks and everything." 
Once everything is in tip-top shape for company, he plans on embracing the holiday with his wife Brandi and their two daughters – Clara Mae,7, and Cori,5. The lovebirds had been together long before Johnson pursued a career in music. 
When they first met, Johnson was a professional bull rider and prison guard at a correctional facility in Huntsville, TX. The family man credits Brandi for encouraging him to chase his country music dream. 
Johnson's smash hit "Til You Can't" from his critically acclaimed collection "Human The Double Album" brought his career to new heights. To date, the track has accumulated more than 400 million streams, scored him Male Video of The Year at the 2022 CMT Music Awards, and a GRAMMY nomination for Best Country Song. While performing for COJO Nation on his headlining tour, he was awarded Pandora's Billionaires Plaque. 
"I have not had very much downtime this year, so to have a full week off to enjoy my family is pretty amazing," he shared. "When I come home, I try to do my best to be present here and work here and to involve my girls. When we're going to feed cows and  stuff, I take them and put them to work a little bit and remind them that, you know, we do have a job here to do." 
He continued, "It's really hard, but it's really worth it to put in the extra effort to be here and to make sure that I'm being a good example here at home for these girls and not just going out and playing shows. Showing them the real work." 
While he's occupied with his two girls, his wife whips up Thanksgiving dinner. Johnson told the publication that Brandi is a master in the kitchen. 
"She's an excellent cook, and I try to stay out of the way unless she says, 'come help with this,' because I have a tendency to mess it up," he added. 
Shortly after Thanksgiving, Johnson will release (Dec. 2) a live album. The highly anticipated project serves as the first volume of a three-part project. The collection featuring Johnson's world-renowned touring band follows "A Cody Johnson Christmas."