Scotty McCreery Talks Life Changes, New Music And Being a Dad
Scotty McCreery is about to turn 30 years old, and he's taking the weekend off to play golf and roast marshmallows.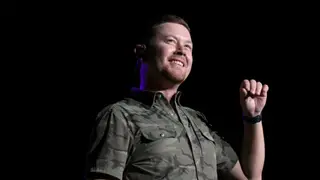 America fell in love with then 17-year-old Scotty McCreery when, with a voice deeper than his age, he won "American Idol" in 2011. McCreery was still in high school and wanted to complete that experience while pursuing a career in country music.
Fast-forward 13 years, McCreery is a married father of one who will celebrate his 30th birthday in early October. His son, Avery, will turn 1 on Oct. 24. Professionally, McCreery's new song "Cab In A Solo" follows his five No. 1 hits, including "Damn Strait," "It Matters To Her" and "Five More Minutes," and he's about to launch his fall tour. He'll be inducted into the North Carolina Music Hall of Fame on Oct. 19.
In other words, Scotty McCreery is all grown up.
"Most people get started at 30," McCreery said. "When we do guitar pools or something, to be with a bunch of new artists and be the veteran in there, but also the youngest one there, too, it's an interesting dynamic."
McCreery's song sense has matured alongside his life. His new song "Cab In A Solo" is a play on words, mourning a heartbreak by drinking wine from a plastic cup in his truck. He wrote the song with Frank Rogers and Brent Anderson while on a writing retreat in the North Carolina mountains.
Lyrics include: Our break turned into broke up| So now I'm findin' out how a heartbreak tastes| With a Silver Oak, 1998| Drinkin' cab in a solo|Solo in the cab of my truck
McCreery remembers they weren't drinking wine when they wrote the traditional country toe-tapper. The men were gathered around a fireplace, drinking Miller Lite. They got the Cabernet out when they finished the song. Anderson brought in the "Cab In A Solo" idea, and McCreery wanted to write it immediately. He said they had the title and then came up with the heartbreak story and why he was drinking to complete the storyline.
"That was a fun write," he said. "We're so excited about this song."
McCreery's Josh Turner influence is unmistakable on "Cab In A Solo," and the singer said fans should expect more of that traditional country, honkytonk sound on the album.
In terms of choosing songs, this project was his most challenging so far. He picked the last track the day before the interview. He says this album is less autobiographical than most of his albums, but there's still a song on the album for Avery. It's also the first album he's recorded since becoming a dad. McCreery and his family still live in his native North Carolina, so when he came to Nashville to record, there were many FaceTime calls with his wife, Gabi, and little Avery. Gabi sent him videos of cute things their son did, and McCreery watched them when he got a free moment away from the microphone.
One thing that hasn't changed for McCreery – he's taking his birthday weekend off work to celebrate with the same group of friends he's had since childhood. The group has grown considerably over the years as people get married and have children. This time, 18 friends will get together and play golf, sit around the fire pit, enjoy the fall colors and roast marshmallows.
"We're just probably taking over this mountain," he said. "It will be a great time."