Outlaws & Armadillos Exhibit Spotlights Country Music's Roaring '70s
Begins Three-Year Run at Country Music Hall of Fame and Museum on May 25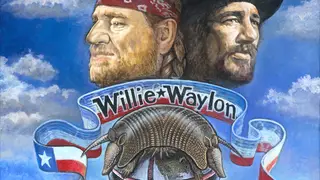 Guess how much a ticket costed to see Waylon Jennings live for one night only at Nashville's historic Exit/In rock club in 1975.
One ticket to Jennings' Exit/In show that year is among the many artifacts that will be on display at the Country Music Hall of Fame and Museum when its new exhibit, Outlaws & Armadillos: Country's Roaring '70s, opens on May 25 for a three-year run.
Co-curated by museum staffers Peter Cooper, Michael Gray and Austin filmmaker Eric Geadelmann, the exhibit will honor the cultural exchange between Nashville and Austin, Texas, in the 1970s when country music's outlaw movement was on the rise.
Additional artifacts on display will include the still where storyteller Tom T. Hall and the "bootleg preacher" Will D. Campbell made whiskey, the Randall knife that once belonged to Guy Clark's father, paintings of Clark's wife, Susanna Clark, the outfit worn by Joe Ely when he worked at a circus, photography by Leonard Kamsler and Marshall Fallwell Jr., the Gibson guitar played by Cowboy Jack Clement and the Armadillo art of Jim Franklin.
On opening night, the Hall of Fame's CMA Theater will host an all-star tribute concert with performances by Bobby Bare, Jason Boland, Jessi Colter, Joe Ely, Jack Ingram, Jason Isbell, Jamey Johnson, Ashley Monroe, Michael Martin Murphey, Gary P. Nunn, Willis Alan Ramsey, Kimmie Rhodes, Billy Joe Shaver, Amanda Shires, Colter Wall and more. Grammy-winning producer Dave Cobb and Shooter Jennings will lead the night's house band. Tickets for the tribute, sponsored by Ben Milam Whiskey and the legendary Texas music venue Luckenbach Texas, go on sale Friday (April 6) and include museum admission.
Arriving May 18, a two-disc companion compilation, Outlaws & Armadillos: Country's Roaring '70s, will feature 36 of the era's top songs including Willie Nelson's "Red Headed Stranger," Bobby Bare's "Marie Laveau," Emmylou Harris' "Easy From Now On" and Townes Van Zandt's "Rex's Blues." The collection will be available digitally when it's released and on vinyl later this summer.
Enjoy a sneak preview of some of the artifacts and artists that will go on display:
Roger "Captain Midnight" Schutt