Next Up Now: "American Idol" Alum Mike Parker Shares "Blue Jean Masterpiece"
Mike Parker hopes his music video for "Blue Jean Masterpiece" helps people realize they can find joy in small things - even a pair of Levis.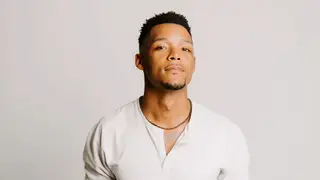 Country music fans met Mike Parker when he made it to the Top 10 on season 20 of "American Idol." Now, the Virginia native is showcasing his R&B country fusion in his new song and video "Blue Jean Masterpiece."
Jimmy Robbins, Sean Douglas and James Edward wrote the song about admiring a woman wearing blue jeans like a work of art. Robbins produced the song and Wales Toney of Whale Tale Media produced and directed the music video, which was shot on Nashville's famed Lower Broadway.
"This video is a flirty representation of the lightheartedness fun that can happen when you first meet someone and form a crush, especially when you're at a bar with your buddies," Parker said. "We tried to capture those feelings around a common scenario...blue jeans on Broadway! I think being able to film at a familiar bar in Nashville, such as Tin Roof, with a great atmosphere helped portray the vibe of the song super well."
Parker said he and the female lead in the music video are such good friends that pretending to be a couple was easy and believable. As they were leaving Tin Roof, where they shot the bar scenes, a bus driver parked at the curb asked if they were a couple.
"We joked and said we were married, and he proceeded to give us relationship and marriage advice," Parker said. "We didn't break it to him that we weren't together in real life, but we walked away with great advice."
The singer hopes that people who watch the video realize they can find happiness in the smallest of things – even a pair of Levis.
"In the opening scene, I portray a guy who doesn't want to go downtown, but after some convincing from my friends, I go out and end up having a great time," he said. "Enjoy life and take chances!"
When he saw the video for the first time, Parker said he felt like he had just watched a premiere in a movie theater.
"We filmed in three different locations, so it was awesome to see it all come together," said the singer. "Wales Toney shot my last music video as well, so I was grateful to be able to work with him again on this one."