Blake Shelton Wins "The Voice" With Country Hopeful Bryce Leatherwood
Bryce Leatherwood: "The biggest lesson that I'm going to take away from being coached by the Blake Shelton is, be yourself and be who you are."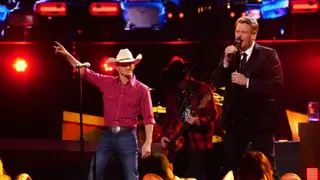 Blake Shelton collected his ninth win on "The Voice" Tuesday night when his contestant Bryce Leatherwood won season 22 of the televised singing competition.
Leatherwood bested fellow Team Blake competitors bodie and Brayden Lape, along with Camila Cabello's Morgan Myles and John Legend's Omar Jose Cardona for the win.
"It's just incredible to be here, and it's like a dream come true almost, 'cause I get to be on that stage with [Blake Shelton] tonight and to be on stage and make my family proud, my home state proud and everyone back home, it just means the world to me," Bryce told ET's Cassie DiLaura. "That's what it's all about."
Shelton used Instagram to share his excitement over winning again – and his support for Leatherwood.
"I'm such a proud coach.. @bryceleatherwood, you are so damn deserving of this," he wrote. "Thank you America and GET READY WORLD!!! #TeamBlake #TheVoice"
Shelton previously told Leatherwood he had already made it – whether he realized it or not.
"I know my genre, and I know the country music fans out there," he said. "You've got a career ahead of you, dude."
Throughout the season, Underwood covered songs by Keith Whitley, Zac Brown Band, Brooks & Dunn, Conway Twitty, Travis Tritt and George Strait and dueted with Shelton on his Trace Adkins collaboration "Hillbilly Bone."
Shelton revealed earlier this year that he planned to step back from "The Voice" after Season 23, a move he's talked about for years.
Niall Horan and Chance the Rapper will join Shelton and Kelly Clarkson as judges on Season 23. While it's common for judges to rotate on and off the NBC singing competition, Shelton has never missed a season since he helped launch the show in 2011.
"This show has changed my life in every way for the better, and it will always feel like home to me," Shelton wrote. "It's been a hell of a ride over these last 12 years of chair turns, and I want to thank everyone at The Voice from NBC, every producer, the writers, musicians, crew and catering people, you are the best. It takes a lot of work, passion, and adult beverages (Ha!) to pull off a live show twice a week."
Leatherwood only wants to make "the old man proud."
"He's tuckered out, but he gives as much as he can to everyone who's ever been on this show and been on this team," Leatherwood told People. "I think it says a lot about a man who's been able to do something for 12 years, interact with young artists and support them in any way that he can."
With his win, Leatherwood receives a record deal with Universal Music Group and a $100,000 grand prize.
"The biggest lesson that I'm going to take away from being coached by the Blake Shelton is be yourself and be who you are," Leatherwood said.