Old Dominion Crosses Huge Moment Off Their Bucket List
ACM Group of the Year Winners Bring Superstar Surprises to Ryman Charity Concert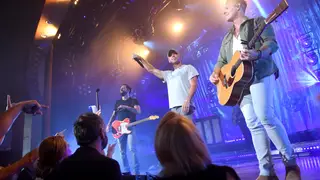 There's nothing like a sold-out show at the Ryman Auditorium to absolutely make your Tuesday night.
For Old Dominion, this was so much more than just another electrifying show -- it was a monumental gig at the Mother Church of Country Music for the reigning ACM Group of the Year that brought out superstar friends to raise money for a good cause.
And let's just say this entire crew outdid themselves.
Sam Hunt, Kelsea Ballerini, Michael Ray, and Kenny Chesney all popped out to sing a few fan favorites with the supergroup during their "Evening With Friends" headlining show. Ballerini joined Old Dominion for their No. 1 smash "Written in the Sand" and then on her hit "I Hate Love Songs," which was co-written by OD's Trevor Rosen.
Hunt performed "Make You Miss Me" and "Ex To See," which he co-wrote with OD frontman Matthew Ramsey.
Ray hopped up to sing his current single "One That Got Away," which was written by Ramsey and Rosen.
But the biggest surprise of the evening had to be Chesney surprising them and requesting that they play "Save It for a Rainy Day," the multi-week No. 1 penned by Ramsey and OD's Brad Tursi.
"What an unforgettable night," Ramsey said of the concert event. "The Nashville community has given so much to us. Our lives have changed in ways we could never have imagined. So we felt like this show at the Ryman was a great way to start giving back. There was so much love and music and history swirling around. We are beyond proud to be able to raise money and help those who need it -- along with help from our friends!"
In total, the evening raised $40,000, with half of the proceeds benefitting the Opry Trust Fund and the other half benefitting the Ryan Seacrest Foundation.