Morgan Wade To Undergo Double Mastectomy
The country singer says she knows she'll be fine following surgery, however she's upset she won't be able to work out.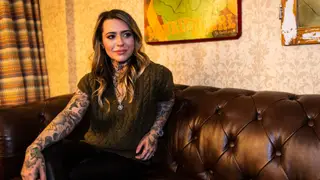 Morgan Wade told the New York Times Page Six that she'll undergo a preventative double mastectomy in November.
"I'll go in-depth later, but I was diagnosed with the #rad51d gene a while back," Wade explained on Instagram. "As always, appreciate you all  ❤️"
Wade, who is one of CMT's 2022 Next Women of Country, said she was nervous in the interview and accidentally misnamed the gene she was diagnosed with.
"That's why I always need my mom @robinfonville with me 😂," she wrote.
The singer then posted #RAD51D mutation information.
Women with a #RAD51D mutation have about a 10-20 percent lifetime risk for ovarian, fallopian tube, or primary peritoneal cancer (these three cancers and their risks are related and are often referred to together as ovarian cancer).
Women with a #RAD51D mutation have about a 20-40 percent lifetime risk for breast cancer with a tendency for triple-negative breast cancer.
Wade told Page Six that her mom had the surgery and her little cousin would get it, but she's sure she'll be OK.
"I'm feeling fine; I'm just pissed I won't be able to work out because I really like working out," Wade said, adding that she works out seven days a week. "That's my only qualm about it."
The country and Americana community flocked to Wade's post to share their respect and support.
Jason Isbell said: "You're strong. Respect."
Maren Morris added: "You're a badass."
Lucie Silvas said: "Brave and strong woman in every way. Huge respect."
Wade shared her health news following the announcement that her second studio album, "Psychopath," will be available on August 25.