Chase Rice Transforms Tennessee Home Into Recording Studio To Prepare For Upcoming Album
Chase Rice explains why he turned his Nashville man cave into an eye-catching home studio.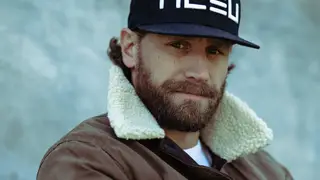 When the global health crisis brought live music to a sudden halt, Chase Rice took the opportunity to slow down as a blessing in disguise and returned to his farmhouse outside of Nashville.
The unexpected pause provided the multi-platinum artist with the time to reflect, the chance to rekindle relationships, and the opportunity to hone in on his artistry in a way that he has never done before. Therefore, the hitmaker transformed his Tennessee home into a recording studio to develop his one-of-a-kind forthcoming album.
"For the first time I can remember since moving to Tennessee, I was just living," he previously shared in a statement. "My home has been the road for so long – and I absolutely love it – but I didn't realize how much I missed having the chance to hang out with old friends, to make new friends, and to actually experience living in the moment."
While appreciating the little moments in life, the "Ride" singer had a wave of inspiration come over him. Tucked away in the middle of rural America – Rice placed pen to paper and independently began pulling from real-life experiences.
"I had started writing songs at home with just me and a guitar whenever the inspiration hit me; instead of heading downtown and trying to crank something out during a scheduled writing session," the chart-topping artist expressed. "I realized that bringing the writing room into my real life – my farm, duck camp, a vacation with my friends – whatever that might look like, was making for some really great songs. So, when we started talking about getting into the studio – what that should look and feel like – I realized we already had the answer. It should feel like home."
The award-winning musician brought his vision to life and created a makeshift studio in his living room without any hesitation. The aesthetically pleasing space includes a vintage stand-up piano, drums, guitars, keyboards, and a high-end microphone.
However, his creative nook does not contain vital recording tools – leaving him to experiment with his sound. With the help of well-respected producer Oscar Charles, the two recorded original material without any click tracks or pre-programmed music beds.
"It's been an incredible experience," Rice shared while reflecting on the writing and recording process. "We've been camped out there for weeks, usually going for 12-plus hours a day without even realizing the time is flying by because everyone is in such a creative groove. It's definitely the most excited I've ever been about making music, so I can't wait to share this new sound with the fans."
The North Carolina native composed his current single "If I Were Rock & Roll" in the midst of the pandemic. The vulnerable ballad serves at Rice's first major release that he penned entirely independently and with critically-acclaimed producer Jay Joyce.
"The night I wrote this song, I decided to take a break from social media, so instead of aimlessly scrolling like most nights, I put Bruce Springsteen's Letter to You documentary on my living room TV. His song 'If I Was the Priest' stood out to me and got me thinking about my own relationship with Jesus and all of the things I love in life; Country music, NASCAR, my friends, and family," Rice shared with multiple outlets. "I picked up a guitar and wrote 'If I Were Rock & Roll' alone in that moment. No track and no cowriters meant I had no choice to focus on the lyrics and lean into what is real to me," he concluded.
View this post on Instagram
The raw ballad is available everywhere and teases Rice's upcoming record. The country crooner told fans on social media that the highly anticipated collection is expected to be the "most real album" he has ever generated. The LP does not have a release date set in stone.