Jessica Chastain Earns Golden Globe Nod For Portraying Tammy Wynette, "George And Tammy" Declared Most-watched Premiere in the History of Showtime
Jessica Chastain says respect "was what kept me going through all the 'bad times', the 'good times' and all of filming #GeorgeAndTammy."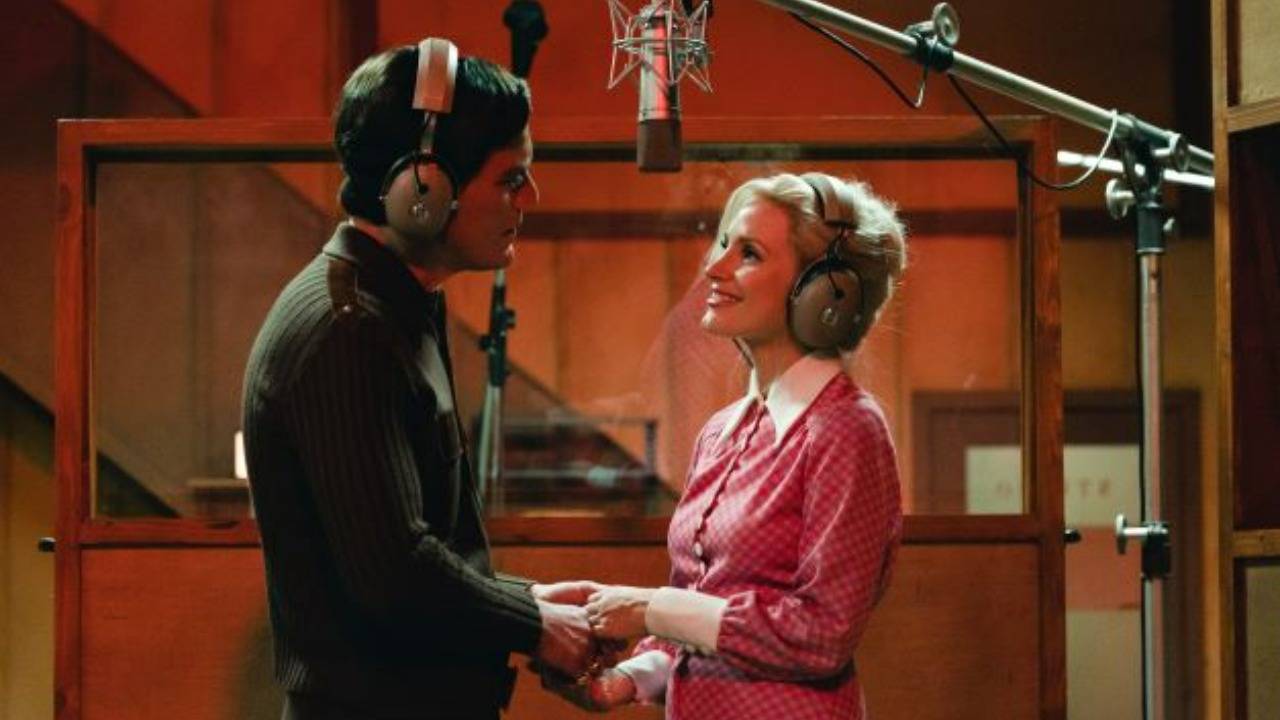 Actors Jessica Chastain and Michael Shannon aren't really country singers – they play the beloved Tammy Wynette and George Jones in the new SHOWTIME/Paramount Network series "GEORGE & TAMMY." However, their portrayals are so engaging that the series premiere garnered 3.3 million live and same-day viewers during its simulcast on Paramount, Showtime and CMT last week, enough to make the limited series the most watched premiere in the history of Showtime.
When the Golden Globe nominations were revealed earlier this week – just eight days after the series' premiere Chastain was singled out for her work. The actress landed a 2023 Golden Globe nomination for bringing Wynette back to life on the small screen. She'll compete against Julia Garner ("Inventing Anna"), Lily James ("Pam & Tommy"), Julia Roberts ("Gaslit") and Amanda Seyfried ("The Dropout") for the win on the 80th Golden Globe ceremony set for Jan. 10.
"Thank you @goldenglobes for today's nomination!!!!" she wrote on Instagram. "I am so happy and honored that you recognized #GeorgeAndTammy today."
Then Chastain posted some behind-the-scenes footage.
"💛 Stand By Your Man was such a pivotal moment in Tammy's career, and I was beyond nervous to sing it," she said. "Here's a little bts of that moment. I have so much respect for Tammy Wynette and her legacy was what kept me going through all the 'bad times', the 'good times' and all of filming #GeorgeAndTammy I can't wait for you all to see the rest of the series!"
The remaining episodes of "GEORGE & TAMMY" will be available exclusively on SHOWTIME, with new episodes available on streaming and on-demand for all SHOWTIME as well as PARAMOUNT+ with SHOWTIME bundle subscribers on Fridays, before making its on-air debut on Sundays at 9 p.m. ET/PT. The series will also begin rolling out across additional Paramount+ markets outside the US and Canada.
"Jessica and Michael are truly extraordinary as Tammy and George, and their searing performances and undeniable chemistry bring to life the legendary relationship of the King and Queen of country music," said Chris McCarthy, President/CEO, Showtime and Paramount Media Networks, in a statement. "The creators and the entire cast have delivered a series with the subtlety, nuance, and complexity that are the hallmarks of the SHOWTIME brand and what our viewers deserve and demand."
To play such important icons in country music history, Chastain and Shannon got more familiar with them, their feelings about themselves, and for each other through studying their music. The actors worked with celebrity voice and performance coach Ron Browning who helped them use the music to create more vulnerability in their characters.
"That's the first time I've ever experienced that," Chastain said. "I was so scared and so nervous. There were days that we'd be working on songs in different rooms, and I just was so terrified. It became a point where Mike was the person that was helping me overcome all of that. I think starting in that way created a bond to tell the story."
Chastain's favorite scene in the mini-series is the reenactment of the night Jones went to Wynette's house for dinner while she was still married to songwriter Don Chapel. Chapel and Wynette got into an argument, and he called her a mean name. Jones was already in love with Wynette, told her in the moment, and the two left together.
"It really happened," Chastain said, who explained she talked to "the kids" and asked the question. "I was like, 'Well, you guys surely weren't there when he flipped the table.' They're like, 'Oh, no, no, we were. We saw it. The table flipped, and the chair went through the window. And she drove off with him.' I mean, to me, it's so, it's such an incredible leap of faith to do on both of their parts."