Craig Morgan Releases Eye-Opening Music Video For Single "How You Make A Man"
Craig Morgan: "I hope they appreciate the message in this song, that they enjoy it, and that they find something in this song that makes them want to be better."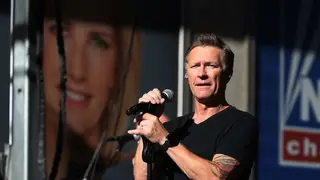 Hitmaker Craig Morgan understands first-hand that everything happens for a reason. 
The military veteran turned platinum-selling artist believes that there is a life lesson in every trial and tribulation. This thought-provoking message drives Morgan's latest single "How You Make A Man," an up-tempo melody about turning unavoidable pain into strength and recognizing how it builds character in the long run. 
The hard-hitting lyrics were penned by Michael Walton, Megan Conner, and Skip Black. Although the singer-songwriter did not have a hand in writing the track, he's the first to attest that heartaches and hardships have made him the man he is today. Whether it was the death of his son, outrageous adventures overseas, or working alongside the CIA in Panama to combat sex traffickers – each situation has played a vital role in his life. 
While Morgan pushes his perspective, he also delivers a love story. To bring the Phil O'Connell-produced narrative alive, the country crooner turned to video director Nate Griffin and longtime friend Angie Harmon. Harmon's astonishing talents are also displayed in Morgan's music video for "This Ole Boy."
The state-of-the-art shots capture Morgan reflecting on his upbringing and how he once gave everything he had to purchase a diamond ring for an ex-lover. 
"Twenty-two thought I knew everything | So, I put everything on a Pawn shop, shiny thing, diamond ring | I would've donе anything," sings Morgan showcasing his smooth like butter vocals. "I promise that girl the whole wide world right before she left | She left a boy broken, yeah remembering what my daddy said." 
Griffin and Harmon filmed Morgan pondering his life choices while driving a pickup truck around a quaint town. Although the video includes a heart-wrenching flashback, it also displays how disappointment led him to the woman of his dreams. The cinematic clip ends with Morgan slow dancing in a field with his on-screen wife. 
"I think it shows the positive message in this song," the vocalist exclusively told CMT. "Also, it shows that it is not strictly masculine. It's a love song. It's a bit of a love song."
He continued to mention that the filming process was rigorous, as they made it their mission to paint a picture that perfectly conveys the storyline. 
"Truth is, it's a long day of shooting. So when the video is done, I am not involved in the editing process of a video. I am in the music. So for me, it is just making sure that the video truly does deliver the same message that the music does," he explained. "It's exciting, exciting knowing that we have an image representation of the song that fans get to watch."
While many fans may believe that Morgan recruited his dog for the video, he clarified that the furry friend in the passenger seat was the director's. 
"The dog in the truck wasn't actually my dog," revealed Morgan. "My dog was in school, so I wasn't able to bring her, and we ended up using one of his dogs to play the part," he added. 
The country powerhouse hopes viewers fully embrace the underlining theme and can relate in one way or another. 
"I hope they appreciate the message in this song, that they enjoy it, and that they find something in this song that makes them want to be better."
"How You Make A Man" serves as the lead track from Morgan's forthcoming album, "God Family, Country (Deluxe Edition)." The highly anticipated 14-song collection is expected to drop on November 11, the same day as his headlining show at Nashville's Ryman Auditorium.