Shania Twain Says She's in A "Renaissance," And "Found A Wonderful Life"
Shania Twain's "Queen Of Me" will be available Feb. 3. Part of living the title of her new album, she says, meant going topless in a photo shoot.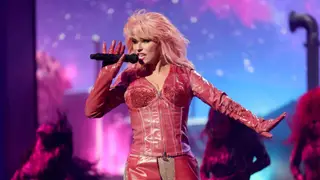 Shania Twain is readying to release her first album in five years in February, and she says that for many reasons, it isn't an opportunity she was guaranteed.
"Queen Of Me" will be available Feb. 3. But following the implosion of her marriage to Mutt Lange in 2008, she spent seven years unable to sing and worried that she would never be able to again. Twain was eventually diagnosed with Lyme disease from a 2004 tick bite that doctors believe damaged the nerves in her vocal cords. The "That Don't Impress Me Much" singer had to relearn how to sing and endured an open-throat surgery to strengthen the nerves in her vocal cords.
"I may not be able to [sing] forever," she told People, "but right now, I'm just enjoying where I am."
Twain has rebuilt her life. Following her ex-husband's affair with her friend Marie-Anne Thiébaud, Twain married Thiébaud's husband, former Nestlé exec Frédéric Thiébaud.
"I really found such a wonderful life," Twain told People. "It's like a renaissance period for me. To be experiencing it as a relevant artist still, that's rewarding. I feel a renewed confidence. I don't have anything to prove anymore, and I feel freedom in that."
With 100 million records sold worldwide, Twain is the best-selling female country artist of all time. Her hit songs include "Any Man of Mine," "I'm Gonna Getcha Good!" and "You're Still the One."
At 57 years old, her success is nearly five decades in the making. The Canada native started singing in bars when she was 8 years old. Her mother and stepfather died in a head-on car crash with a timber truck when she was 22 years old. The accident forced Twain to care for her three younger brothers, and she started singing at a resort to support them.
"It was like, 'This is all I know how to do. I've got to support the kids,'" she told People. "That gave me a motivation and a fearless state of mind because when you don't have a choice, you've got to push through — and that's what I did."
She moved to Music City in 1995 and broke through with her second album, "The Woman in Me," which she recorded with her then-husband and super producer Mutt Lange. But it was "Come on Over" that she released in 1997 that cemented her as a crossover superstar. 2002's "Up!" made her the only artist in history or have three diamond-certified albums in a row. Still, she felt like she wasn't taken seriously.
"It was very offensive to be considered a molded artist, that it took a man or a team to mold me," says Twain. "I bit my tongue a lot. But when you're in the industry from a young age as a woman, you really learn how to let it roll off your back."
Now, she feels the love more than ever. She even went topless on the cover of her new single, "Waking Up Dreaming."
"Honestly, I can't even tell you how good it felt to do nude shooting," she told People. "I was just so, like, unashamed of my new body, you know, as a woman that is well into my menopause, right? And if I'm saying to people, 'I'm comfortable in my own skin, I'm Queen of Me,' then I have to express that in the music and in the art. And I'm finding it very fulfilling.'"