Luke Bryan Will Miss 'American Idol' Live Show After Testing Positive For COVID-19
Paula Abdul will step in as a guest judge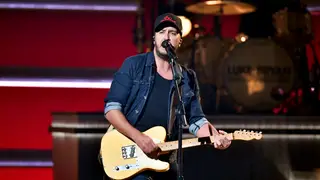 Luke Bryan will miss tonight's first live taping of American Idol's current season, as the entertainer has tested positive for COVID-19.
Bryan announced his diagnosis on Monday (April 12), telling fans via social media, "I'm sad to say I won't be a part of tonight's first live @AmericanIdol show. I tested positive for COVID but I'm doing well and look forward to being back at it soon."
The American Idol organization also confirmed the development, stating that former American Idol judge Paula Abdul will step in as a guest judge, joining Bryan's fellow judges Katy Perry and Lionel Richie.
"Luke will be missed at our first #AmericanIdol LIVE show tonight, but he is resting now in quarantine at home and we're wishing him a speedy recovery," said in a statement on Instagram.
Abdul was a judge on American Idol from 2002-2009, including season four, which crowned Carrie Underwood as the Idol winner.