CMT Premiere: Cledus T. Judd Spoofs Luke Bryan in "Shoot A Deer"
Cledus T. Judd turns Luke Bryan's hit "Drink a Beer," written by Jim Beavers and Chris Stapleton, into a tongue-in-cheek song about hunting.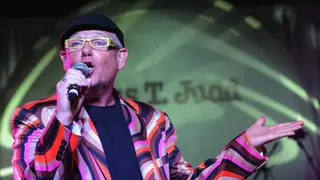 What do you get when you add a heartfelt hit song with a parody, a bent rifle with a dancing guy in a Rudolph costume and neon orange camouflage with a giant deer pillow?
"Shoot a Deer" is Judd's parody of Luke Bryan's touching ballad "Drink a Beer." Chris Stapleton and Jim Beavers initially wrote "Drink a Beer."  Then, Judd and Chris P. Cream Clark added their unique lyrical twist.
Judd produced the song with Clark. Cucumber and Company produced the video and Judd with Tom Mabe and Brandon Kitts directed it.
"Getting to work with Tom Mabe, the greatest prankster in the world, I was concerned that I was the one who was going to get pranked at any given moment!" Judd said.
The video shows Judd in true and funny form sitting in the woods with a home phone stuck to a tree. He pays off the game warden, engages with a dancing Rudolph, plays a camouflage guitar outfitted with antlers, and ends up face down in the dirt with Rudolph's hooves on his back.
"Video has always been so important to my career," Judd said. "For me, a song without a video is not complete. And with this handsome face and curvaceous body I have, the package is not complete without both!"
He just hopes people like watching the clip as much as he enjoyed making it.
"I hope they laugh," he said. "Especially after what we've been thru the past few years. I just hope I can put as many smiles on people's faces as Luke Bryan's version of 'Drink A Beer' did."
Judd said seeing the video for the first time was like "seeing your newborn for the first time."
"That's a beautiful thing, there!" he said.