2023 CMT Music Awards: Jelly Roll, Kane Brown and Lainey Wilson Win Big and Other Moments You Missed
The CMT MUSIC AWARDS EXTENDED CUT" airs 8p/7c Thursday on CMT.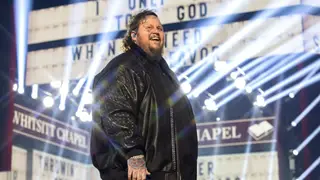 The 2023 CMT Music Awards brought the biggest and brightest stars to Austin, Texas, on Sunday for a completely unique night of collaborations and memory-making wins. Kane & Katelyn Brown, Jelly Roll and Lainey Wilson were among the night's big winners. Collaborations included an all-star tribute to Lynyrd Skynyrd, a Wynonna Judd, Ashley McBryde duet, an unexpected Gwen Stefani/Carly Pearce duet, and an all-girl party with Alanis Morisette, Lainey Wilson, Madeline Edwards, Morgan Wade and Ingrid Andress.
If you didn't catch the 2023 CMT Music Awards on Sunday, here are five moments you missed. You can see the show plus extra content when "CMT MUSIC AWARDS EXTENDED CUT" airs 8p/7c Thursday on CMT. This version includes the original premiere plus 30 additional minutes of bonus content and never-before-seen performances.
1. Kelsea Ballerini dedicates CMT Music Awards to the family, friends and survivors of gun violence, uses her performance to support the LGBT community:
On Sunday, six days after three adults and three 9-year-old children were killed in a mass shooting at The Covenant School, a private Christian school in Nashville, Kelsea Ballerini addressed the epidemic of gun violence in a darkened Moody Center. She said the sorrow over the Covenant School shooting and the other 130 mass shootings in the U.S. this year stretches "from coast to coast."
"Tonight's broadcast is dedicated to the ever-growing list of families, friends, survivors, witnesses, and responders whose lives will forever be changed by gun violence," she said. "I pray deeply that the closeness and the community that we feel through the next few hours of music can soon turn into action, like real action, that moves us forward together to create change for the safety of our kids and our loved ones."
Ballerini was unflinching and emotional when she pleaded for action in a state known for its open carry laws and treasured relationship with its firearms. She also put the LGBT community front and center for conservative America when she incorporated "Drag Race" stars  Manila Luzon, Kennedy Davenport, Jan Sport and Olivia Lux into her highly stylized mid-century themed performance of "If You Go Down (I'm Goin' Down Too)." As Tennessee and Texas are deep into the drag debate, Ballerini made her stance known during her light-hearted performance that ended with rainbow colors on the background screens.
"I hate that it's a statement," she said of using the Queens. "I wish that it was just an element of performance and celebration like it always has been. But I'm happy to make that statement."
Before Jelly Roll walked on stage at the CMT Music Awards on Sunday, he'd never performed on an awards show or won a trophy. When he left Austin, Texas, Moody Center Sunday night, he did so having turned in one of the night's most compelling performances as the night's top winner. Jelly Roll won three trophies, including wins for male breakout video, male video and more.
"It like the whole country music community was behind me," an emotional Jelly Roll said from backstage. "It felt like I looked up, and all I saw was support."
The realization was particularly meaningful to the singer who hears the chatter that questions his country authenticity.
"Historically, that has come with every great artist that did something great in country music," he said. "Shania Twain stopped to talk to me. Carrie Underwood told me what her favorite song of mine was tonight. You know what I mean? It was just unreal."
The Nashville native was so positive he wouldn't win again after his second award that he started drinking. When Male Video of the Year came along, he didn't even look up until his wife made him. Jelly Roll burst into tears when he heard his name called.
From the stage, he said: "It may have looked like it was only 30 yards, but it took me 39 years to walk from over there to right here."
"I want you to know that I don't know what you're going through, and I don't know what you've been through, but I know you can overcome it," he continued. "I promise you, you can. You can be whatever you want to be. I promise you that," he added." When God got something for you, nothing can get in the way away."
3. Kane and Katelyn Brown win Video of the Year for "Thank God":
Kane Brown scored his first Video of the Year win with his wife Katelyn at the 2023 CMT Music Awards for their duet "Thank God." Katelyn emotionally accepted the trophy, gushing that she was "so nervous."
"This is all so new to me," she said, with Kane beside her. "When we recorded this song a year ago, I never in my life would think that this is going to happen. I just want to say thank you so much to my amazing husband. I love you. This is so special."
Kane beamed at her and she bubbled with excitement.
Backstage, Katelyn said she didn't remember what she said while accepting the night's biggest honor and that she had "blacked out up there."
Kane said he was "so proud" of his wife, and he was "getting to relive my career through her."
"First time winning, first No. 1," he said. "I'm just getting to be a proud husband."
"Thank God" is the couple's first duet and first No. 1 song.  
"It means the world to me," Brown said of sharing the song and success with his wife. "I mean, she sings every night. We have a big setup in our home, and she's always singing. Honestly, she loves singing more than I do. For me to just be able to give her this opportunity and her come out, and hopefully, us have more songs in the future, is really cool."
The pair performed their hit "Thank God" on the CMT Music Awards on the outdoor stage on Congress Avenue in downtown Austin in front of thousands of adoring fans.
4. All-Star Lynyrd Skynyrd Tribute:
Billy Gibbons, Chuck Leavell, Cody Johnson, Paul Rodgers, Slash & Warren Haynes honored Lynyrd Skynyrd original founding member Gary Rossington Sunday night on the 2023 CMT Music Awards. Rossington recently passed away.
The tribute comes on the 50th anniversary of Lynyrd Skynyrd's first album. Johnson and Rodgers swapped lead vocals and Billy Gibbons, Slash and Warren Haynes covered electric guitar on timeless Lynyrd Skynyrd hits "Simple Man" and "Sweet Home Alabama."
"There is a symbiotic connection for this performance that we all share some thread back to Lynyrd Skynyrd," Billy Gibbons said.
The men launched the performance with "Simple Man." Rodgers started the song, and Johnson came in on lead to finish it, leaving room for LeAnn Rimes and Wynonna Judd as "The Honkettes" to shine at the end.
Johnson flowed into "Sweet Home Alabama" as if he'd been singing the song all his life - because he had. Haynes took a turn on the mic, as did Gibbons before the song moved into a rocking, extended guitar solo showcasing each player. Johnson was so excited that he went to headbang beside Slash and then danced around waving his hat in the air. Lynyrd Skynyrd's "All I Can Do Is Write About It" is the first song Johnson learned to play on guitar as a child.
"I worked my whole life to get here," Johnson said. "No sense in being nervous now. This is what you work for. Now it's time to go to work. Now is when the work starts. All the rest of that was just preparing for this."
5. Lainey Wilson Goes No. 1, Collaborates, Wins Big:
Lainey Wilson not only won the first award on the CMT Music Awards broadcast -- Collaborative Video of the Year with HARDY for "wait in the truck" -- but she got the news that her current single "Heart Like a Truck" would officially be No. 1 on Monday. So, when she stepped on stage for her solo performance on the awards show, she knew she was singing the No. 1 song in the country.
"I'm nervous, I'll be honest with you," Wilson said before the show. "Like, I'm nervous. I'm excited."
Wilson explained that technically the song would be No. 1 on Monday but that people were already posting the stat, so she felt confident talking about it. As for the performance, she promised: "There's gonna be some fire."
Wilson took the stage through a foggy haze in metallic animal print bell bottoms. Her long blond hair hung nearly to her waist as she sang about the impact a lifetime of heartbreak had on her. As promised, flames shot from behind the stage. When she finished, the crowd roared, and she emotionally patted her heart.
Later, she took the stage with Alanis Morissette, Ingrid Andress, Madeline Edwards and Morgan Wade for an epic collaboration on Morissette's "You Oughta Know."
"I remember my friend jumping on the bed to the song and she knew every word," Wilson recalled. "And I was like, 'Who is this?' And I learned all the words, too. I was listening to Shania Twain, and I was listening to The Chicks, and stuff like that, but she introduced me to Alanis."
Wilson also won Female Video of the Year with "Heart Like a Truck."
She explained it was filmed, written and directed by women. Then she thanked Jesus, CMT and the fans.
"I feel like I'm watching my dreams come true right before my eyes," she said.