Justin Moore Talks Duet Partners, Funny Songs And What He Just Can't Do As A Parent
"I think (Priscilla Block) has got a really bright future ahead. She cracks me up. She kind of reminds me of me a little bit when I first started."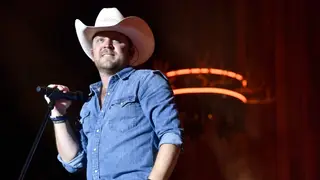 Justin Moore first met Priscilla Block when they played together at a charity event about two years ago. He felt sorry for the North Carolina native, who was about 25 years old at the time. She didn't have any hits yet and was the only girl on stage with a group of men who, in some cases, were well over a decade older than her.
Moore remembered how it felt to be in that position, when artists line up on stage with their guitars, and everyone but the newcomer has a No. 1 song to play.
"That, to me, was always like, 'Why am I here?'" he said. "'This sucks.' But she stole the show. Her rapport with the audience was great, she sang great, and the songs were great."
A couple of months later, when he was pitched "You, Me and Whiskey," he thought of Block.
"I thought, 'Man, that'd be cool if that Priscilla girl would do this,'" he said. "She said, 'Yeah.' Now we've gotten to know each other a lot better. She's really talented. I think she's got a really bright future ahead. She cracks me up, too. She kind of reminds me of me a little bit when I first started."
"You, Me and Whiskey" is from Moore's new album "Stray Dog," which is out now. The album is Moore's seventh on The Valory Music Co., and includes the song "Everybody Get Along" with Riley Green and his hit "With A Woman You Love."
"I've been a big Justin fan for a long time," Block said. "His music's just really country, and I love that. The duet was such an easy yes. It feels like I could have written the song, so yeah, this is my first duet and that's huge."
Over the course of his career, Moore has recorded songs with Miranda Lambert, Vince Neil of Motley Crue, Charlie Daniels, Hank Williams Jr., Brantley Gilbert and more. However, "You, Me and Whiskey" is the first duet Moore has released to country radio.
He said his duet with Riley Green reminds him of an old Hank Williams Jr and Willie Nelson duet that mimics a conversation.
"I say a line, he sings a line, so it's kind of fun and funny at the same time," Moore said.
"Get Rich or Drunk Trying" is another song that makes Moore laugh. He was inspired to write the song when rapper 50 Cent released his 2003 debut "Get Rich Or Die Tryin.'"
"I thought, 'That's a terrible alternative to not getting rich,'" Moore said. "I thought to myself, 'I'd rather get drunk if I don't get rich.'"
Moore wrote "Everybody Get Along" with David Lee Murphy and Jeremy Stover. Moore and Stover, along with Casey Beathard and Paul DiGiovanni, penned "Get Rich or Drunk Trying."
"Both songs are funny," he said. "I've kind of always had humor intertwined in my music."
The Arkansas-based singer might be laughing on stage, but the father of four explained he's the father of a teenage girl now, which is no laughing matter. Moore and his wife Kate are parents to four children, and their oldest, Ella, turned 13 in February.
"It sucks," Moore said. "She doesn't come out of her room. "I've seen her room. It's not that spectacular. I mean, not to stay in there eight hours a day."
Ella also just went to a dance with a boy for the first time. Moore hated it and said it made him grouchy for a week.
"My wife's like, 'It's no big deal,'" he said. "I go, 'It is a big deal. It's a big deal.' They did the whole thing, the hair getting done, the makeup – I can't stand it. I was not happy, but it's part of life, and I know it's normal. There's nothing wrong with it, but as a dad, I still hate it."
Moore has tried to structure his career around his family since he and his wife started having kids. He wanted them to grow up in Arkansas around his parents, and Kate's parents live there, too. He also coaches them in baseball, softball and basketball. Moore and his family are sports fanatics, and he spends hours at ball practice almost every day he isn't on the road. He started coaching when Ella was 5 years old. She started playing at 4, and that's when he and his wife discovered that the singer couldn't watch patiently from the stands.
"It was one of those first years I'm sitting there going, 'They're costing us runs by not running these kids," Moore said. "I did this the whole game. Kate goes, 'You're effing coaching next year because I'm not going to put up with this, you sitting here doing this. So I've been coaching ever since."
Ella now plays on a junior high team that Moore doesn't coach. Her first game was the only time in eight years that Moore had to sit in the stands and watch.
"I sat like a normal parent and absolutely hated it," he said. "She played good. She's better than I was."
Moore said it's important to him to coach his kids because his father did it for him. His father didn't have a career in country music, but he worked and was exhausted for 18 years while going to work and coaching Moore in sports.
"I know that I only have this small window of time to do these things, and when it's over, it's over," he said. "I've realized you're just kind of whooped for 18 years. But you know, those are memories that we get to create."
He laughed, then added: "I love sports probably more than music, to be honest. I just stop growing at 5'6", or I'd be doing that."
1. "Everybody Get Along" (with Riley Green) | Justin Moore, David Lee Murphy, Jeremy Stover
2. "That Wasn't Jack" | Justin Moore, David Lee Murphy, Chris Stevens, Jeremy Stover
3. "With A Woman You Love" | Justin Moore, Paul DiGiovanni, Chase McGill, Jeremy Stover
4. "Better Slow" | Justin Moore, Paul DiGiovanni, Randy Montana, Jeremy Stover
5. "Stray Dogs" | Justin Moore, Paul DiGiovanni, Randy Montana, Jeremy Stover
6. "Country On It" | Justin Moore, Casey Beathard, Paul DiGiovanni, Jeremy Stover
7. "You, Me, And Whiskey" (with Priscilla Block) | Jessi Alexander, Brock Berryhill, Cole Taylor
8. "Get Rich Or Drunk Trying" | Justin Moore, Casey Beathard, Paul DiGiovanni, Jeremy Stover