Carly Pearce Reveals What She Would Say To Her Younger Self: "Just Hold On"
Carly Pearce talks rise to fame and upcoming European tour.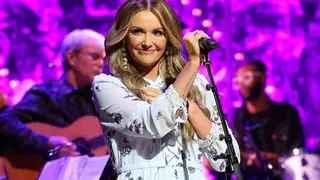 Carly Pearce has come a long way since she left her small Kentucky town to chase her country music dreams at Dolly Parton's amusement park in Pigeon Forge, TN. The platinum-selling performer recently (Aug. 16) appeared on "Good Morning America" to perform her latest radio single, "What He Didn't Do," and to give her younger self a piece of valuable advice. 
Before delivering the reflective rendition, the songstress shared the backstory behind her critically acclaimed album, "29: Written In Stone."
"These songs are all my stories and come from places off just hardship and things," the vocalist told the show. "Just to have fans make me also feel like I'm not alone in the way that I'm making them feel, it's the greatest gift in the whole world," she added. 
The third studio album is an extension of her successful EP, "29." Renowned producers Shane McAnally and Josh Osborne had a hand in perfecting the relatable 15-song collection. The tracklist includes the award-winning collaboration "Never Wanted To Be That Girl" featuring Ashley McBryde and a duet with country legend Patty Loveless. Following the successful release, Pearce scored Female Vocalist of the Year at the 2021 CMA Awards, Female Artist of the Year at the 2022 ACM Awards, and more. 
After reflecting on her numerous accolades and success within the country landscape, "GMA" asked what she would tell her teenage self with the superstar pipe dream. 
"Just to hold on," she fired back. "That every single dream and more that you've ever dreamt of is gonna come true," Pearce added. 
With a smile ear to ear, the Grand Ole Opry member effortlessly proved how she became a country mainstay by showcasing her soaring pipes and razor-sharp wordplay. With purple smoke flooding the stage, she exploded into the sing-along-worthy chorus with confidence. 
"Treat me right, put me first, be a man of his word | Stay home 'cause he wanted to | Always fight my love, hold on tight like it's something |That he couldn't stand to lose | The devil's in the details, I won't tell | The hell that he put me through | All I know is in the end, It wasn't what he did, no | It was what he didn't do," she belts. 
Pearce penned the poetic single alongside frequent collaborators Ashley Gorley and Emily Shackleton. The honest lyrics serve as a reminder to remember your self-worth while in a relationship. 
The hitmaker is expected to bring the soul-touching tracks across the pond in the fall. The "Next Girl" singer will kick off her first-ever headline Europe tour in early September. 
"Oh my goodness - we're going to London, Glasgow, Amsterdam, and Switzerland," she pointed out with enthusiasm. "They [the fans] have been so good to me over the years. I haven't been back in a really long time and never have done my own shows. So, I am just so excited to get over there and play for them." 
Pearce will start her run in London and wrap in Glasgow, Scotland, on Sept. 17. After the highly anticipated trek overseas, she will be holding back-to-back shows at Nashville's legendary Ryman Auditorium with Jackson Dean and bluegrass band Mountain Heart. Tickets are available for purchase, here.