Watch: Lady A's Charles Kelley and Wife Cassie Reveal His Dire Struggle With Alcoholism, What It Did To Their Family and Their Brink of Divorce
"I just turned my phone off in the middle of nowhere and just took off and stayed up drinking with all these random people I didn't know."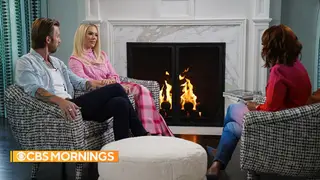 Lady A's Charles Kelley struggled with alcohol dependence before, but this time was different. He and his wife Cassie had fought while in Greece, and he stayed out all night drinking with strangers.
"I just turned my phone off in the middle of nowhere and just took off and stayed up drinking with all these random people I didn't know," he said on CBS Mornings. "We had got in an argument, and I had one of those moments where I just was like, 'I'm so sick of being told what to do.'"
Cassie didn't sleep that night, and when he did return, she told him he needed help. This time he listened. Charles always said he wouldn't be the guy who went to rehab, but this time he got on a plane and flew straight from Greece to a 30-day treatment facility.
He said he was "scared to death."
"What I learned is there are degrees of alcoholics," said the singer. "Just because you're not living on a street or waking up in a bush, it can get there."
Cassie joined him on the show. The couple share a 7-year-old son Ward, and Charles admitted that much to his disappointment in himself, Ward also picked up on alcohol-fueled changes in his behavior.
"Cassie would tell me some stories about little things Ward would say," Charles said. He offered as examples: "Daddy is talking a little funny. Or you and Daddy argue a lot."
"That crushed me," Charles said. "He's the most important thing in my life, hands down."
To manage now, Charles said he goes to a lot of meetings with other alcoholics and has a device that he breathes in every morning and every night to provide extra assurance to his wife and Lady A bandmates.
Cassie admitted during the interview she planned to fly back to the United States and meet with a divorce attorney. They have been married since 2009. Cassie told interviewer Gayle King that even though things were bad, they weren't bad enough to consider giving up her son half of the time in a divorce.
"In order for me to take myself out of his life every day, it never got to be that bad," she said. "Until it just is, and that's where we were leaving Greece."
Cassie visited Charles in rehab during family week and was shocked when they told her she would have to do as much work as he did.
"I remember being so mad," she said. "Like, 'You did this, and now I have to do all of this work, too.' But they call it the family disease of alcoholism, and it affects every person. I could have chosen not to do the work, but then I have to live with the way I've been affected and unhealed. So, whether Charles and I were still in a marriage or not, I still had to deal with what I had gone through."
 "The thing that's hard is to know how much it affected Cassie the most and my band and the people around me and how much it emotionally wrecked them for a while," Charles said. "You can't really say I'm sorry enough. It's just going to take time to rebuild that."
About 10 months ago, Lady A canceled their tour to allow Charles time to tackle his alcoholism and get healthy. The group is back on the road now, with dates booked through October.