Carrie Underwood To Open For Guns N' Roses On Select Summer Tour Dates
"SO ready for this," Carrie Underwood wrote on social media. "I CANNOT WAIT!! "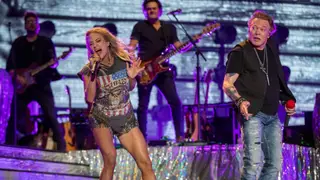 The country queen revealed Wednesday that she plans to join Guns N' Roses for select dates on the rockers' North American Tour in August.
"SO ready for this," she wrote on social media. "I CANNOT WAIT!! "
Underwood will play two dates in Canada with the band in early August and then join them in Nashville at Geodis Park on Aug. 26.
The union revisits past collaborations between the acts. Underwood invited Guns N' Roses singer Axl Rose to join her on stage at Stagecoach in 2022. He popped on stage with her again in March at her Crypto.com Arena show in Los Angeles, and Underwood skipped across the pond to play with the hard rockers in London last summer. 
Underwood is a well-documented uberfan of Guns N' Roses and told Rolling Stone that she learned to sing by listening to the band. 
"I've been covering Guns N' Roses my whole life, pretty much, and definitely onstage for the past 15 years at least," she told Rolling Stone in 2022, adding that she learned how to sing by mimicking Rose. "I would pick really hard vocalists to try to emulate, and his voice always mesmerized me. I was like, 'How is he doing the things that he's doing?'"
Underwood is the only country support act on the Guns N' Roses Tour. Other openers include Chrissie Hynde and the Pretenders, Dirty Honey, Alice in Chains and the Warning will also play select shows. 
 When Underwood isn't on tour with Guns N' Roses this summer, she'll spend her nights in Sin City. Underwood is relaunching her REFLECTION: The Las Vegas Residency shows at Resorts World Theatre. She'll bring her over-the-top theatrical production to the venue June 21, 23, 24, 28 and 30; July 1; Sept. 20, 22, 23, 27, 29, 30; Nov. 29 and Dec. 1, 2, 6, 8 and 9. Visit here for more information.