Mitchell Tenpenny Makes History With Chart-Topping Single "Truth About You"
Mitchell Tenpenny is slated to release his 20-song album "This Is The Heavy," on Friday, September 16.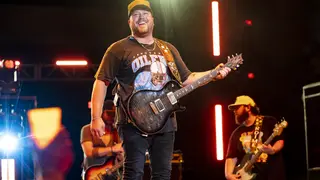 The gold-selling track broke records on Monday (Sept. 12), becoming the "shortest span between #1 songs in the modern chart era." It has only been three weeks since Tenpenny sat at No. 1 with the favorite fan collaboration with Young. 
"It takes a huge team and support to bring a song to #1," shared Tenpenny in a statement. "I'm so thankful to everyone, including the fans, who believed this song was special and helped bring it to the top of the charts. And to have this #1 just three weeks after being part of my last one is unbelievable. Thank you country radio. You'll never know how much this means to me. I'm just overwhelmed with thankfulness."
Tenpenny penned the drama-infused single "Truth About You" alongside critically acclaimed writers Matt Alderman and Thomas Archer. Together they convey a relatable storyline about an ex-lover looking for trouble post-breakup. The exhilarating melody showcases Tenpenny's captivating sound and knack for songwriting, as the single is composed of ruthless lyrics that cut deep. 
"Yeah, there's two sides to every breakup | One's a lie and one's the truth | One of 'em went down and one was made up | But in the end we both lose | Why can't we meet in the middle | Call it even, call a truce | If you quit telling lies about me | I won't tell the truth about you," utters Tenpenny. "Like how you picked a fight| Every time you saw me get a text | To make yourself feel better | That you still talk to your ex | Yeah, you told your friends, you told your mama| That I'm the root of all the drama | But we both know why this ended | Girl, I caught you red-handed." 
In August of 2021, the hitmaker teased "Truth About You" on TikTok and the hard-hitting narrative instantly resonated with listeners. "Truth About You" quickly became Tenpenny's largest streaming debut of his career, racking in 2.5 million streams upon release. Due to the positive praise, the mid-tempo track was sent to country radio within the same month. 
The chart-topping vocalist recently turned to social media to thank his devoted fans for the endless support and for making "Truth About You" a smash hit. 
"☝️Country radio, thank y'all. Thank you to every single person who made this happen. I have the best team & fans in the world," he wrote alongside the singles cover art. "We made history!!!! I'll be celebrating for a while about this one. Cheers y'all!!" he added. 
Notable names in country flocked to the comments to applaud Tenpenny on his achievement. 
"CONGRATS BOO!!! You are the best!!!" shared Raelynn. "YESSIR🔥🔥" said Dan Smyers. "Woooo well deserved congratulations!!! 👏👏👏" added singer-songwriter Michaela Cook. 
Tenpenny will continue to keep up the momentum by releasing his highly anticipated record "This Is The Heavy," this Friday, September 16. The unstoppable artist co-wrote all 20 songs on the project and produced the tracklist with Jordan M. Schmidt. 
Come January, Tenpenny will bring his new collection on his headlining This Is The Heavy Tour. The multi-city run will begin in Salt Lake City, Utah and will wrap in late February. Tickets are available for purchase, here.