CMT Greenlights "Racing Wives" and Season Two of "Music City"
Female-Driven Docuseries "Racing Wives" Features Wives of Top Drivers Kurt Busch, Kyle Busch and Austin Dillon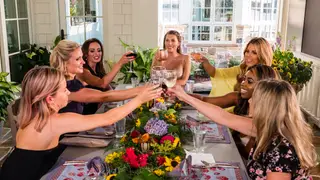 Hear those engines revving up? That's the sound of the all-new docuseries "Racing Wives" coming to CMT next year, race fans.
CMT just announced two exciting additions to its programming lineup for 2019, including the eight-episode, hour-long unscripted series from Executive Producer Jenny Daly and T Group Productions that follows the never-before-seen private lives of some of NASCAR's most captivating "First Ladies."
If you think all the action happens on the track, think again.
Sisters-in-law Ashley and Samantha Busch, married to world-famous driver Kurt and Kyle Busch, will star alongside Whitney Ward Dillon, a former cheerleader now married to Daytona 500 winner Austin Dillon. Mariel Lane, Whitney's BFF and cheerleader ride-or-die, will star in the series as well. Also featured is Amber Balcaen, an aspiring NASCAR driver new to the racing community who left everything, including her boyfriend, back home in Canada to chase her dreams.
The glittering shores and mansions of Lake Norman, North Carolina may never be the same.
Simultaneously returning to the CMT lineup from "The Hills" creator Adam DiVello and Lionsgate is "Music City," back for a second season consisting of ten episodes. The drama will continue for the cast, which will include fledgling musician Kerry and his wife Rachyl, personal trainer Jackson and his pageant queen cousin Alexandra, as well as musicians Jessica and Alisa, who are at opposite ends of the spectrum right now when it comes to their love lives.
New additions to the cast include Rachyl and Kerry's friend Jeremiah, Kerry's new manager Tori, and Jackson's childhood buddy Stephen. Alexandra will bring her friend Molly, along for the ride as well, and let's just consider the pot officially stirred.
A shocking breakup, a wedding, a cutthroat Miss USA competition—season two of "Music City" is also shaping up to be quite the ride.
The shows will be paired for a debut in 2019.