Lainey Wilson Talks Learning To Act Alongside Kelly Reilly, Says These Are The Days She's Worked Toward for Years
Lainey Wilson: "If I'm not doing things that are a little bit uncomfortable, I wouldn't be growing,"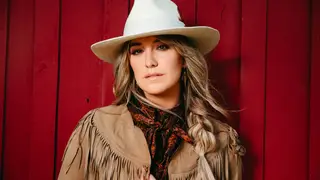 Lainey Wilson hails from Louisiana, but Montana is like her second home these days. Wilson recently visited Whitefish, Montana, to play the Under the Big Sky Festival. And after her set was over, she had to pack up and head about 200 miles south to Darby, Montana, where she is filming the next season of "Yellowstone."
While the "Heart Like a Truck" singer is full of confidence on stage, she admits she finds acting "scary."
"I'm completely new to all of this," Wilson said, standing under the trees backstage at the Under the Big Sky Festival. "I feel like I fish out of water."
However, the charming country singer got a massive boost of confidence from Kelly Reilly, who plays Beth Dutton on "Yellowstone."
"On the first episode when we were filming, Kelly Riley told me, 'Had you not told me that this was your first time, I'd been thinking you were doing it forever," Wilson said. "I took that as a compliment. I mean, she's one of the best actresses in the entire world."
Wilson said it's hard for her to learn songs she didn't write, so memorizing lines for "Yellowstone" can be an even more significant challenge. She's getting a few tips from an acting coach in Nashville, Tennessee, but not about how to act. Wilson wants to be herself on screen, but she also knows it's important to stay grounded and connected.
"I can't just learn my lines," she said. "There's got to be an emotion that's connected to it. I have to be in the moment. So, if I'm reading lines back and forth, I need it to sound just like me, and you were having a conversation. That's really hard, but I love it. I'm having a lot of fun."
Wilson is in total "strike while the iron is hot" mode. And said there's "no point in doing all of this" if she isn't "pushing her limits."
"If I'm not doing things that are a little bit uncomfortable, I wouldn't be growing," she said.
Uncomfortable is a feeling Wilson knows well – in more ways than one. The singer lived in a camper for years while she was trying to make it in the country music business. And when she traveled so much last year that she only spent in her bed a total of 20 nights, she did it without a tour bus. Wilson transitioned to her first tour bus over the summer and said it made life "so much easier."
Wilson recently nabbed her second chart-topper – this one with Cole Swindell and their duet "Never Say Never." Now when she sings her new single, "Heart Like a Truck," for audiences, they react the same way they did to her first two hits.
"I always say that the music I put out there, especially the singles, I want it to mean something," she said. "I think there's a time and a place for feel good. But at the end of the day, I feel like my job is to make people feel like they're not alone."
She believes "Heart Like a Truck" checks that box.
"All of us have been through things in life," she said. "We've all been heartbroken, but it's about what it looks like on the other side of that. At the end of the day, a truck that's been drug through the mud, got a few scratches, got a few dents, has a story to tell. The shiny truck on the lot can't say that."
Regardless of the title, "Heart Like a Truck" isn't about a truck. She knows people might see the title and dismiss it, but she hopes they don't.
"It's more than that," she said. "I guess this was my way to really connect to those diehard country, blue collar, redneck folks. You can say anything is like a truck, and they're gonna connect to it."
These are the days Wilson, who always wears her trademark bellbottoms, has worked towards for years. She's not about to slow down. But when she looks around scenic Montana, she can't help but think about the future.
"I tell you, since the first time I came to Montana, I have been absolutely in love with the place," she said. "Take a look around. I'm already thinking about retirement."