"11 MINUTES," A Documentary About the 2017 Route 91 Harvest Shooting, To Premiere on Paramount+
"11 MINUTES" will debut Tuesday, Sept. 27, on Paramount+ and includes an in-depth interview with Jason Aldean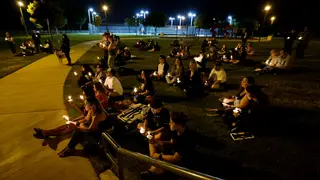 Nearly five years have passed since Oct. 1, 2017, when a gunman opened fire on the crowd during Jason Aldean's headlining set at the Route 91 Harvest festival in Las Vegas, killing 59 people and injuring more than 600. 
Paramount+ is recognizing the event this year, exclusively premiering "11 MINUTES," a four-part documentary that highlights the gripping stories of terror and survival experienced by victims who were at the 2017 Route 91 Harvest Music Festival in Las Vegas. "11 MINUTES" will debut Tuesday, Sept. 27, on Paramount+ to mark the week of the tragedy's fifth anniversary. 
The Route 91 tragedy is the largest mass shooting in U.S. history.
"11 MINUTES" includes first-hand emotional accounts and immersive never-before-seen footage of the tragedy. The docuseries also contains the first in-depth interview about the shooting with Aldean and Storme Warren, the emcee of the event, as well as concertgoers, law enforcement and first responders. 
Aldean remembers hearing a popping noise and thinking it was an equipment malfunction.
"When I turned around, my bass player was just looking at me like a deer in the headlights," he says in the docuseries. "My security guy was on stage at that point, telling me to get down, waving me off the stage."
"11 MINUTES" also includes first-person narratives of officers from the Las Vegas Metropolitan Police force, trauma teams at Sunrise Hospital, and concertgoers who all experienced the trauma of the shooting. The documentary utilizes never-before-seen police bodycam footage and 200 hours of cell phone video to lets viewers accompany heavily armed officers as they approach the shooter's hotel room on the 32nd floor of Mandalay Bay.
"It's important that people know the truth out of respect for those we lost, out of those who were injured, those who are still mentally and physically scarred … that everybody's spirits and legacies remain intact. And, that friendships made that night in those 11 minutes were made for a reason," says popular SiriusXM radio host and festival emcee Storme Warren. "The story, to me, wasn't about a shooter. It was about people helping each other."