Watch Reba McEntire in "The Hammer" Saturday
Reba McEntire will star in "The Hammer" alongside boyfriend Rex Linn and Melissa Peterman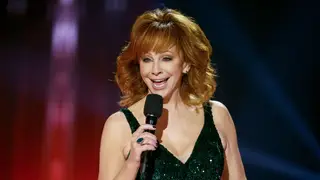 Reba McEntire fans will see yet another side of the Country Music Hall of Famer on Saturday night when she flexes her acting - and producing- chops once again on Lifetime movie "The Hammer." Billed as "a made-up story about a real-life judge," "The Hammer" stars McEntire alongside her boyfriend Rex Linn and friend and "Reba" show alum Melissa Peterman and will air at 8/7 c on Lifetime.
The trailer for "The Hammer" depicts McEntire in full flow at her most sassy.
The clip shows McEntire telling off a police officer, clocking someone with a hammer and laying down the law.
Reba serves as executive producer on the show, inspired by the life of traveling circuit judge Kim Wanker.
The movie follows Reba's character, Kim Wheeler, the outspoken spitfire of an attorney appointed judge of the 5th District of Nevada and one of the few traveling judges left in America. During the saga, the reigning judge dies under questionable circumstances, and Wheeler must cover the rugged, middle-of-nowhere circuit between Las Vegas and Reno. She bangs her gavel with a no-nonsense brand of justice, which earns her the nickname "The Hammer." As the show unfolds, Kim's sister Kris, who operates a brothel, becomes a suspect.
Reba and Peterman became friends on the set of McEntire's euphonious sitcom "Reba," which ran from 2001 to 2007. The series follows the Hart family as they navigate life after divorce and blend families. In the series, Peterman plays Reba's husband's mistress and eventual wife. The women have a hysterical, adversarial relationship.
Watch McEntire in "The Hammer" 8/7 c Saturday on Lifetime.