BRELAND: My New Year's Resolution
BRELAND shares how an unbalanced year has inspired him to make some radical changes.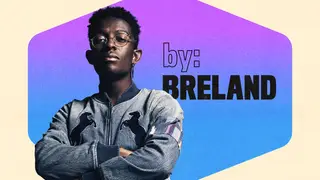 I remember opening 2022 with grand aspirations of award show nominations, putting out my debut album, touring internationally, and getting my first No. 1 at country radio. I spent my winter break reflecting on the previous year, and like millions of others, I mapped out what I thought I wanted from the New Year. While I succeeded in all of these goals, I achieved them at a costly expense. I burned out.
Ambition is a double-edged sword, a master's weapon we foolishly impose onto novices. Modern society has pressured us all to dream bigger, work harder, and accomplish more. As an artist, specifically, we're taught that longevity is the result of writing more songs, playing more shows, and winning more fans. To an extent, that philosophy is true. But in reality, longevity is the result of a balanced life.
I worked relentlessly in 2022: playing over 100 shows across three continents, finishing and releasing my debut album, all while agreeing to countless meetings, interviews, podcasts, and appearances. There was a six-month stretch where, excluding travel days, I only had two days off. To an outside observer, one may have misconstrued my busyness for success, but in reality, I was failing. It would be misguided to blame this restlessness on the other people on my team because, ultimately, this was a lifestyle of my choosing. I bought in to the idea that if I stopped moving, the opportunities would stop coming. And so I worked, through surgery, illness, depression, turning my ambition into anxiety. I lost the joie de vivre that had made this career possible, the gratitude necessary to appreciate my position, and, truthfully, the love of the craft.
What I lacked was balance. All of us, artist or not, fundamentally require the same things. We need time to ourselves, time with our loved ones, time to reflect, to think, to dream, to be. We need to be able to take inventory of how we are doing physically, emotionally, and spiritually in order to tackle the obstacles life throws at us and to be able to make adjustments toward our goals. We need this balance to have the energy to pour back into the people we care about and our communities. Life is a marathon, and treating it like a sprint shortens the race.
When I think about the artists I've collaborated with who have been in this industry for a long time, I see some very illuminating similarities in their lifestyles. My first time working with Keith Urban, I learned that he has a firm cut-off time every evening to enjoy dinner with his family. Even in the middle of writing or recording a song, he has priorities, and they are non-negotiable. Being out on the road with Dierks Bentley, I saw a man willing to fly across the country in between shows to celebrate his son's birthday. Neither of these artists was concerned with what they might lose by making these decisions or setting these boundaries. They simply understand that without this balance, no resultant career success would matter. In fact, creating that balance and establishing these priorities is exactly what defines their success and supports their longevity.
So this new year, while I still have professional goals, I am choosing to prioritize my personal ones. Rebuilding my foundation around rest, reflection, family, friendship, prayer, laughter, and a clearer understanding that my body and mind are a temple, not a machine. With that in place, I have faith that I can not only accomplish my professional goals but be able to enjoy them and remember why they matter. Ambition is healthy, but only when it is reinforced with a balanced and harmonious lifestyle. Whatever your New Year's resolution, your aspirations, goals – they'll only go as far as you can. Cheers to us all being able to go a little further.
Singer, songwriter and producer BRELAND is a bold new force on today's country music landscape and a new contributor to CMT.com. His views are expressly his own. Connect with him on Instagram, Facebook, Twitter, YouTube and SoundCloud.