Dolly Parton Talks New Children's Book, Quotes New Rock Song, 'Liar, liar, the world's on fire. What you gonna do when it all burns down?'
Dolly Parton will debut her new rock song "World On Fire" next month.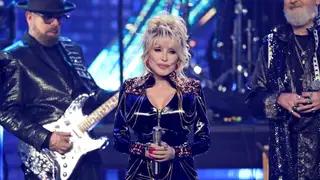 Dolly Parton may sing about working nine to five, but it's a sure bet her days are much longer than that. Parton recently chatted with "Good Morning America" about her new children's book, "Billy the Kid Makes It Big," her rock album and its debut single "World On Fire," and her upcoming book detailing her life through fashion called "My Life in Rhinestones."
Each project has a decidedly different message ranging from encouraging children to believe in themselves in her children's book to calling out the tumultuous state of the world and suggesting the only way to fix it is for everyone to come together.
Parton will debut "World on Fire" next month. While most of her rock album, "Rock Star," covers beloved rock songs, Parton wrote "World on Fire." 
"It's kind of fitting to the times," she said. "It's called 'World On Fire,' you know, 'Liar, liar, the world's on fire. What you gonna do when it all burns down?'" she quotes.
Parton adds: "So it's really kind of about the times and how we can do a little better if we try to try to heal the divide and just get along a little better. It's really got a great message to it, but it's also a good and solid rock anthem."
The dual Country Music Hall of Famer and Rock And Roll Hall of Famer is dedicated to spreading meaningful messages. Her children's book, "Billy the Kid Makes It Big," encourages kids to believe in themselves while also highlighting the truth that everyone is different and that differences are beautiful. Billy is her manager's French Bulldog. She illustrates the differences through breeds of dogs in fun settings that children can understand.
"It's a cute little story about confidence and about bullying and about dreams and keeping on with your dreams," she said. "I wanted to instill confidence in kids that it's good to go after your dreams. I'm always talking about that. But it's really about accepting people as they are. Other people (are) different than you or other puppies, in this case. It's just kind of, 'Keeping on with your dreams until you see them come true. Because they can if you work hard, and Billy the Kid can prove that."
Her fashion book, "Behind the Seams: My Life in Rhinestones," is an entirely different look. Parton calls this book "a museum piece."
"It shows a lot of my beautiful costumes through the years," she said. "Even the ones that are not so beautiful when I first started. It's really just my journey through my show-business life in costume. I tell stories about where I was when I wore this particular thing and where I was at that period of time in my life."