CMT ARTISTS OF THE YEAR: Luke Combs Talks 2022 Success and Adjusting to Fatherhood
2022 CMT ARTISTS OF THE YEAR honoring Luke Combs, Kane Brown, Cody Johnson, Carly Pearce, Walker Hayes and more will air 9 p.m./ 8 p.m. C Friday on CMT.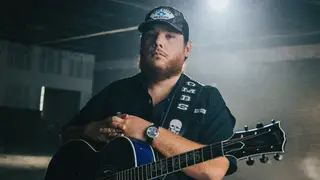 2022 has been a banner year for Luke Combs in more ways than one, and CMT is celebrating him and his accomplishments at the 2022 ARTISTS OF THE YEAR celebration that will air 9 p.m./ 8 p.m. C Friday on CMT.
"It's awesome," Combs said of the recognition. "You know, always fun and always amazing, you know? I mean, I don't think anybody would say anything other than that. I mean, I think being one Artist of the Year is pretty damn cool."
Combs is in stellar company. The other Artists of the Year include Carly Pearce, Kane Brown, Cody Johnson and Walker Hayes. Alan Jackson is being named Artist of the Lifetime, and Lainey Wilson is Breakout Artist of the Year.
"(It's) a good year for sure," Combs said. "I just had a kid this year. That was awesome."
In addition to being a new father to his three-and-a-half-month-old son Tex, Combs also spent much of the year playing stadiums. And he's about to play more. In 2023, Combs will take his music to three continents and 16 countries for 35 concerts in an unprecedented world tour. The trek will stop at 16 stadiums across North America, including Arlington, TX's AT&T Stadium, Nashville's Nissan Stadium, Kansas City's GEHA Field at Arrowhead Stadium, and Foxborough's Gillette Stadium, as well as stops in Australia, New Zealand, U.K., Ireland, Germany, Netherlands, Norway, Sweden, Denmark, Switzerland, France and Belgium. Wilson will join him on a portion of the journey, as well Riley Green, Flatland Cavalry and Brent Cobb.
On Friday night, he also joined Keith Urban on stage at Bridgestone Arena in Nashville, where they chatted about their wives and raising babies. Combs' son, Tex, is a significant focus for the new dad.
"It's amazing," Combs said of fatherhood. "It really is. It's totally different. Your life just completely changes. People say that all the time, and it probably sounds like the most cliche thing in the entire world, but it's really true. It's just really like, instantly. Everything's completely different."
The singer said he's learned how to cope with many things that might have upset him before.
 "I'm just not bothered about being, like, just, you know, covered in someone else's bodily fluids," he admitted. "Like, I was really worried about that. It's kind of one of these things where there's no easing into this. You know what I mean? It's not like you leave the doctor or before you go have the kid, there's not like someone calls and goes, 'Okay, you're having this kid (this) month. So every day for the next three days, you got to change a diaper a day, and then it's going to go up to two.' It just immediately goes to like eight or nine."
Combs laughed that "it'd be gross" if it were someone else's kid. But when it's your own, "it all changes."
"You're like, 'Oh, cool. Yeah, whatever,'" he said.