Chris Stapleton Talks "Higher," Working With His Wife, The Songwriting Advice He Got From His Daughter And What He Tells People Who Want To Be Successful
Chris Stapleton: "If you want to be famous or any of those kinds of things, that's not the reason. If your reason for doing this is music, then this is a good place to do it."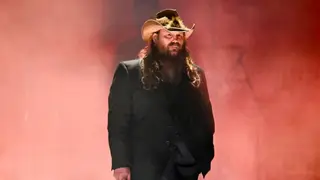 With Thanksgiving one week away, Chris Stapleton has much to be thankful for – a new album, "Higher," an upcoming tour with George Strait, stellar co-writers, a supportive family and the opportunity to collaborate with his wife, Morgane, who co-produced "Higher."
Stapleton told Today's Country Radio with Kelleigh Bannen that his wife didn't love the attention attached to fame but joined him on stage and in the studio because he enjoys doing it.
"She would be very happy staying home and doing mom stuff," Stapleton said. "She likes music, and she is very passionate about music, but some of the other things that are the work of music are not her favorite."
The singer calls his wife "invaluable" and ensures she knows it.
"That's a hard thing for her to navigate sometimes, to be needed in so many places," he said. "We all know that she's the boss in the room, and if it doesn't pass her, it's not going to pass. That's the way it goes."
Miranda Lambert is another of Stapleton's collaborators whom he isn't convinced gets enough credit. The pair wrote "What Am I Gonna Do" together, and he said that people don't talk enough about her impressive songwriting skills.
"We all know that she's a great singer and entertainer and all those things, but she's a really great country songwriter," he said. "She and I have written some songs over the years, and I actually called her when we were making this record. I was like, 'Hey, do you remember that song?'"
Stapleton could only remember half of the song and didn't have a copy. Lambert found hers and sent it to him so he could record it.
"That's how it wound up on the record was she was kind enough to dig a little bit," he said.
Stapleton's daughter has recently taken an interest in songwriting and scolded him for not doing a better job at keeping up with his ideas. He admits he doesn't know how many songs he lost under his philosophy that if he couldn't remember a song, it wasn't any good. He often didn't write down ideas or melodies because if he woke up the next day and didn't remember it, he thought it "was not a thing."
"I don't subscribe to that anymore," he said. "My daughter … was like, 'No, no, that's not true. If you have something that you think is cool in a moment, just put it down and… put it in your phone, and it's okay to forget things and then come back to them and go, 'Oh, that was cool,' and work on them some more. It's okay."
"Higher" is a song he did save. The title track for his new album is from the first demo session he did when he moved to town. He wrote the song alone and initially a bit lower than he recorded it. He explained it's one of his wife's favorites.
"I think we landed at least a step or a step-and-a-half higher on this just because I was feeling good that day and had it because I'd been working on it," he said. "And we haven't recorded this song for any other album."
Backstage at a recent awards show, Stapleton had some advice for people who want to do what he does – singing and writing songs. He said their heart has to be in the right place – and they must be present to win.
"Don't just dream; do and go learn how to do the things that you want to do," he said. "Be around people that know how to do it. And if you have dreams of being in Nashville, then you have to come to Nashville. That's the way Nashville works."
Stapleton said people tell him they want to be a songwriter but don't plan to move to Music City.
"I was like, 'Well, there's 50,000 people in this town trying to do what you're trying to do not from this town,'" he said. "It takes some commitment, it takes a lot of dedication to a craft, and it takes some hard work, but also just loving it enough to keep doing it regardless. If you want to be famous or any of those kinds of things, that's not the reason. If your reason for doing this is music, then this is a good place to do it."