Jana Kramer and Allan Russell Are Expecting First Child
"I've had miscarriages, so I didn't even know if it was possible. I'm like, yes, it'd be beautiful for us to create something."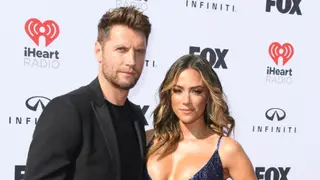 The actress and country singer revealed she and fiancé Allan Russell are expecting their first child. Kramer is already mom to Jolie, 7 and Jace, 4, with ex-husband Mike Caussin. Russell has a 16-year-old son in the U.K., where he's from.
"I didn't think it would ever happen again if I'm being honest. I've been through a lot, so this has just been a really beautiful thing," Kramer told People. "I'm letting it all sink in. It's everything I've wanted and more. Allan was so sweet. He wrote me this little sticky note saying, 'You deserve the happy ending.'"
Kramer said she found out she was pregnant in March during a trip to Los Angeles for the iHeartRadio Music Awards. A metallic taste in her mouth, the same taste she got when she was pregnant with Jolie and Jace, tipped her off, and she went to the store and got a pregnancy test. When she found out she was pregnant, she started crying.
"I've had miscarriages, so I didn't even know if it was possible," she said. "I'm like, yes, it'd be beautiful for us to create something because I love this man. It would be the silver lining with everything that happened, but I'd always get kind of down about it because I didn't know if I was capable of carrying a pregnancy again. I was like, well, I'm going to be 40 in December, so I was like, we have one month to try. Literally one month."
Kramer said she told her other two children she was pregnant in May.
"Every time Allan and I kissed, Jolie's like, 'You're getting married and having a baby! I want a baby brother, baby sister.' I told her we were pregnant and she was so happy."
Kramer is now out of her first trimester. She and Russell recently revealed they are engaged – another moment in which they involved her kids.
"I've had a few things that I have not been talking about because, you know, just want to do it when I'm ready, and so I've got an announcement today," she said in May on her Whine Down with Jana Kramer podcast.
Kramer said she and Russell were just concluding a small pool party when he suggested the couple and her kids go for a walk to the new house they're having built.
"It was a really beautiful night, and me and the kids were all sitting … on the front porch, and just looking out at the view," said Kramer, who is mom to Jolie, 7, and son Jace, 4, with ex-husband Mike Caussin. "And (Allan) said my name, and I got up or whatever, and then he got down on one knee, and Jolie just started jumping up and down. It was the cutest thing ever; it's like she knew what was happening."
The singer said they both started crying, and the fact that he proposed on the front porch of their new house made it even more special, given the theme of new beginnings.
"It was perfect," she said. "We were actually supposed to be in Jamaica, but something happened with the resort, so we ended up staying here, but honestly, that's exactly what I would have wanted, was at the house. I don't need the roses and the whole glam setup."
Kramer previously said she and Russell met on a dating app. She said she had even talked to her ex-husband about possibly marrying Russell.
"I know he's my person; I trust him," she said. "There's no anxiousness attached to that. (Mike) already knew that (Allan) is my partner whether we get married or engaged or whatever."