Shania Twain Joins Celebrity Panel For Singing Competition Show, "Starstruck"
Shania Twain will replace Sheridan Smith on UK's hit television show, "Starstruck."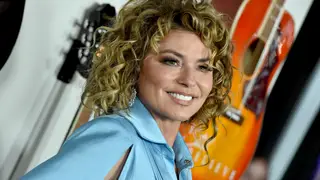 Global phenomenon Shania Twain is gearing up to go across the pond for her next big project.
The top-selling female country artist is slated to join a celebrity panel on the UK singing competition show, "Starstruck." Twain will replace Sheridan Smith for Season 2 of ITV's hit television series and will judge music hopefuls alongside Adam Lambert, Beverley Knight, and Jason Manford.
Twain turned to social media early Tuesday (Aug. 30) to repost a video from the "Starstruck" official Instagram account revealing the star-studded lineup.
"✨BIG NEWS ✨We are THRILLED to announce that @shaniatwain will be joining @adamlambert @beverlyknight @jasonmanford and host @ollymurs for Series 2 of #Starstruck 💫 Let's Go @itv!" the captioned read.
Within the short clip, Twain expressed her excitement from backstage of her long-running Las Vegas residency.
"Hi everyone. I am here in Las Vegas, and I'm about to get on the stage to do a show. But I wanted to take a quick minute to say that I'm excited about heading to the UK soon to join Starstruck panel," said the hitmaker with a beaming smile. "It's a real honor. I am such a fan of the other artists on the panel, the judges – Adam, Beverly, and Jason – I love all of you…I just look forward to being able to tell you that In person when I get there. I can't wait to see all the amazing talent there," she added.
Country music fans based in Europe took to the comments to congratulate the songstress on the opportunity.
"So exciting!!! The judge's performances will be extra amazing!!!" shared a TV junkie. "Fantastic news looking forward to seeing you, Shania," said another.
The must-watch show features talented singers shedding their normal personas to transform into their music idols. In each episode, contestants tirelessly battle it out and try to win over the judges with electrifying covers. "Starstruck" aired in February, but will return to the small screen spring of 2023.
"Shania is one of the all-time music greats, not to mention a fabulous personality, so it's an honour to welcome her to the Starstruck panel," said Katie Rawcliffe, head of Entertainment Commissioning at ITV. "We are over the moon to welcome music legend Shania Twain to our fantastic Starstruck panel. She is an absolute trailblazer who has collaborated with everyone from Elton John to Harry Styles. Shania will bring so much fun to our Saturday nights we simply cannot wait," added Cat Lawson, Creative Director at Remarkable Entertainment.
Twain is currently on the final leg of her Let's Go! residency at Zappos Theater at Planet Hollywood in Las Vegas. The powerhouse vocalist will take center stage tomorrow night, Aug. 31. She will pick the fashion-forward and interactive show back up on Sept. 2, 3,7,9, and 10. Tickets to the world-renowned show are available for purchase, here.