Chris Janson Enlists Dolly Parton, Slash for New Duet "21 Forever"
Chris Janson: "Dolly and Slash, it doesn't get any BIGGER than that. I'm incredibly humbled and grateful for these two."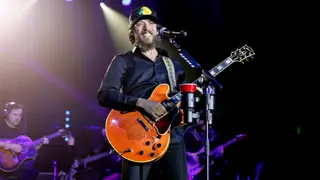 Janson, who recently left his long-time record label Warner Music Nashville for Big Machine Label Group, just announced a new and unexpected collaboration.
Janson's new song "21 Forever" will feature country music's favorite iconic butterfly Dolly Parton and Guns N Roses famed guitarist, Slash.
"I'm so thrilled to announce, that two Global Icons have joined me in song, for my absolute biggest collaboration to date," Janson said in a statement. "Dolly and Slash, it doesn't get any BIGGER than that. I'm incredibly humbled and grateful for these two. Hope you all enjoy '21 Forever.'"
This isn't the first time in the last few weeks that Slash has dipped his toe into country music waters. The guitar player also joined Billy Gibbons, Chuck Leavell, Cody Johnson, Paul Rodger and Warren Haynes to honor Lynyrd Skynyrd original founding member Gary Rossington last month at the 2023 CMT Music Awards. The men covered Lynyrd Skynyrd's "Simple Man" and "Sweet Home Alabama" with Slash on guitar and Wynonna Judd and LeAnn Rimes singing backup.
Parton is keeping herself busy, too. She recently chatted with "Good Morning America" about her new children's book, "Billy the Kid Makes It Big," her rock album and its debut single "World On Fire," and her upcoming book detailing her life through fashion called "My Life in Rhinestones." She'll also join Garth Brooks to host the Academy of Country Music Awards next week.
She also doesn't say yes to every duet. Bebe Rexha had to try a couple of different songs before Parton found one she was comfortable singing on. Rexha and Parton recently teamed for their power ballad "Seasons," but Rexha said she first sent Parton a song with religious themes that the "9 to 5" singer declined.
"I had another song prior to ['Seasons'], and it was a song about heaven and hell and stuff like that, and she was like, 'I can't,'" Rexha told Kelly Clarkson. "She wrote me a handwritten letter telling me about why she doesn't want to sing about heaven and hell. She didn't want to go into that energy, so then I sent her 'Seasons,' and she loved it, and then a week later, she sent me her verse."
Janson has said very little about his collaboration with Parton and Slash, other than to promise it's going to be "EPIC."
Janson wrote "21 Forever" with Tommy Cecil and Tom Douglas. The song explores that time in life when you're not a kid but still not an adult and you have to learn to live more responsibly, realizing that you "can't be 21 forever."
"21 Forever" will be available Friday.