Jon Pardi Announces Christmas Album
"Merry Christmas From Jon Pardi" will be available Oct. 27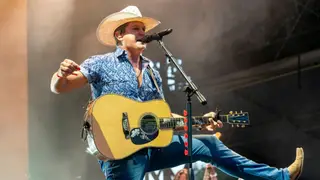 Jon Pardi is adding a new accessory to his wardrobe this holiday season  - a Santa hat.
Pardi revealed plans Monday for a new Christmas album – "Merry Christmas From Jon Pardi" – that will be available Oct. 27, soon after his induction into The Grand Ole Opry on Oct. 24.
"Excited to announce that my Christmas album is coming out on October 27!" Pardi shared on Instagram. "We're also having a big ole Christmas party at the Beacon Theatre in NYC on December 16! Join the email + text list at jonpardi.com for presale info. All tickets on sale this Friday at 10am."
Pardi produced the 12-track "Merry Christmas From Jon Pardi" with Bart Butler and Ryan Gore, which is available for presale/preadd now.
The yuletide music isn't the only way Pardi is getting into the holiday spirit. He's also set to launch Opry Country Christmas on Nov. 26. The festive Opry event is Pardi's first significant event for the Opry as a member.
Alan Jackson asked Pardi via video to join the Grand Ole Opry in April during his performance at Stagecoach in his native California.
Pardi appeared to fight back tears as he watched.
"The Grand Ole Opry has always meant a whole lot to me and everyone in country music," Jackson said in the video. "I've been appreciating your music ever since you were touring with me a few years ago. I get the honor to invite you in front of all your Stagecoach friends to be the first native of California to become an official member of the Grand Ole Opry."
The enormous crowd roared, and Pardi removed his hat and put it over his heart. He commented how the invitation to join the Opry was unexpected.
Dan Rogers, Vice President and Executive Producer of the Grand Ole Opry, walked onstage carrying the Opry's famed microphone and sat it in front of Pardi in the spotlight. He told fans that the singer debuted on the Opry's stage nearly a decade ago and that the Opry staff loves it every time Pardi plays.
"There's a lot of history in this mic stand," Rogers explained. "There's a great future in this mic stand. Tonight is historic because not only, Jon, are you the first person ever invited to become a member at Stagecoach, he's the first native Californian to ever be a member of the Grand Ole Opry."
Pardi took a swig of alcohol from the bottle and explained: "I moved to Nashville chasing a dream at 22 years old, and now I'm here. I love you guys, and I love country music."