Chris Janson, Mickey Guyton, Fancy Hagood and More Talk "CMT Smashing Glass" And The Magic Of Tanya Tucker and Patti LaBelle
"CMT SMASHING GLASS" will air tonight at 9p/8c on CMT.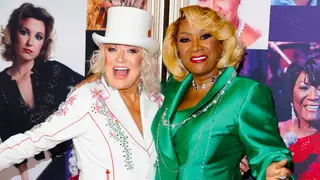 Now, those who couldn't score a ticket to Belmont's Fisher Center for the Performing Arts to see the show can enjoy it from the comfort of their home.
"CMT SMASHING GLASS" will air tonight (Wednesday, November 15) at 9p/8c on CMT. In addition to Tucker and LaBelle, who are the night's marquee honorees, Tina Turner, Sinead O'Connor and Aretha Franklin were also recognized.
"This is a groundbreaking night, and I'm kicking off the freaking show singing a Tanya song," Janson said before the event. "The female band – holy crap. It's the best band I've ever played with. Whoever assembled this, it's unbelievable. We're going to bring some honkytonk to it right off the bat."
O.N.E the Duo was on hand just to enjoy the show and called the night "surreal." Tekitha grew up in a family where no one was musical and needed another black woman to look up to. LaBelle was the role model she needed.
"To look at what I'm sure she had to face to have the career she's had, you know the business had to be tight, and she had to be an incredible thinker to be able to do this," Tekitha said. "The art form is a separate thing for me. I look at it like, 'I wonder what she had to confront and what kind of hurdles and ceilings she was met with, and she kept pushing through. And she's cross-genre – she's a rockstar, if you ask me."
Guyton was on hand to pay tribute to Turner.
"Tina Turner was such a trailblazer, and she was so far outside of the box of anything anybody imagined for her, and she existed in such an incredible way," she said. "I didn't live her story, but I feel like there's so many similarities that maybe that's why they asked me to sing."
Hagood grew up in Arkansas and explained that there weren't many queer icons for him to look up to in entertainment, so he naturally gravitated to strong female personalities and voices, which form the backbone for who he is as an artist.
"It's such an honor," Hagood said of participating in the show. "It's really cool that CMT is paying homage to these two absolute icons."
Sports icon and equality champion Billie Jean King will kick off the inaugural "CMT Smashing Glass" and present Tucker with her honor, while Black will serenade Tucker with his version of "Texas When I Die." Janson will launch the show into high gear with his electric cover of Tucker's "It's A Little Too Late."
Hagood will introduce Labelle, and Ledisi will showcase her impressive vocals on LaBelle's "New Attitude." The War & Treaty put their spin on LaBelle's "On My Own" to ensure it's a night to remember.
"We're beyond excited to bring this electrifying and empowering new franchise to life by honoring iconic women who've fearlessly 'smashed glass ceilings' and kicked in doors, holding them wide open for past, present and future generations," shared Margaret Comeaux, CMT's Senior Vice President of Production, Music & Events and Executive Producer. "Both Patti and Tanya deserve to be celebrated for continuing to set the industry gold standard with boundary-breaking crossover success, bold, uncompromising lives and careers, and creating timeless music and impact that remains as powerful and relevant as ever."
"CMT SMASHING GLASS" will premiere Wednesday, November 15 at 9p/8c, exclusively on CMT.
For more information, visit CMT.com, follow @CMT on Facebook, Instagram, X, YouTube, TikTok and use hashtag #CMTSmashingGlass.