57th CMA Awards: Five Things You Missed including Lainey Wilson, Jelly Roll, Post Malone, Kenny Chesney and More
The 57th CMA Awards were rich with collaborations, heartfelt speeches and wins with country music's most beloved stars.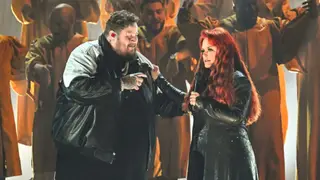 The 57th CMA Awards celebrated the musical friendships, creative wins and personal losses of the last year in country music. The Wednesday night awards show was a collection of memorable collaborations, star-making moments, rousing and heartfelt speeches and record-setting wins – particularly for women.
We're looking at you, Lainey Wilson and Tracy Chapman.
For those who missed the 57th CMA Awards, hosted by Luke Bryan and Peyton Manning, here are our favorite moments.
1. Lainey Wilson is crowned country music's contemporary queen.
Wilson went into the 57th CMA Awards as the night's top honoree with nine chances to walk away a winner. The early recognition doesn't always mean awards show wins – just consideration. However, for Wilson, that wasn't the case. Wilson took home five trophies, including Entertainer of the Year, Female Vocalist of the Year, Album of the Year, Music Video of the Year and Musical Event of the Year.
Her win in the top category not only marks the first time a female has won the honor since Taylor Swift in 2011, but it's also the first an artist has won back-to-back New Artist of the Year and Entertainer of the Year trophies since Garth Brooks accomplished the feat in 1990 and 1991.
And while her Entertainer of the Year win might be the most impressive of the night, it was her speech following the trophy for Female Vocalist of the Year that made us weepy.
"This is for all of the hardworking ladies that I know that I don't know," Wilson said while emotionally accepting the Female Vocalist of the Year win. "I see you. For all the little girls watching, I'm getting up every single day, and I'm looking at myself in the mirror and saying, 'I'm beautiful. I'm smart. I'm talented. I'm godly. I'm fearless.' If someone tells me I can't do something, hold my beer and watch this. Us girls, we've been having to blaze trails from the very, very beginning. Here's to all the ladies who blaze trails every single dang day of their life."
2. Tracy Chapman becomes the first African American woman to win a CMA Award.
Tracy Chapman wasn't in attendance at the 57th CMA Awards, but her song "Fast Car" was honored as country music's Song of the Year. Luke Combs rerecorded her 1988 Grammy-nominated song and turned it into a multi-week No. 1 country smash this year. The song won Combs a Single of the Year trophy, which celebrates the recording. However, Song of the Year goes to the song's writer, and Chapman wrote the song alone.
Backstage, someone asked Combs if anyone had invited to Chapman to perform the song with him, and he said he didn't know.
3. Jelly Roll's New Artist of the Year speech: "The windshield is bigger than the rearview mirror because what's in front of you is so much more important than what's behind you."
Wednesday night was the night we learned that if Jelly Roll gets tired of the music business, he can pivot into a very successful role as a fiery Southern preacher. When Jelly Roll took the stage to accept his New Artist of the Year trophy, his passionate speech brimmed with gratitude, inspiration and hope.
"I've got a thousand people to thank, but most importantly, my Lord and my wife. I love you so much; you changed my life," he said, then mentioned his fellow nominees in the category Megan Moroney, Parker McCollum, Zach Bryan and Hailey Whitters.
"Most importantly, there's something poetic about a 39-year-old man winning New Artist of the Year. I don't know where you're at in your life or what you're going through, but I want to tell you to keep going, baby. I want to tell you success is on the other side. I want to tell you it's going to be OK. I want to tell you that the windshield is bigger than the rearview mirror because what's in front of you is so much more important than what's behind you."
4. Tributes: Kenny Chesney with Mac McAnally and Zac Brown Band with Alan Jackson for Jimmy Buffett and HARDY, Morgan Wallen, and Post Malone for Joe Diffie.
Given Jimmy Buffett's recent passing, there would have been a gaping hole in the CMA Awards if the sea-loving music icon and friend of country music wasn't acknowledged.
What fans received was a heartfelt tribute from some of Buffett's closest friends and collaborators.
Kenny Chesney and Mac McAnally, a near-constant Buffett collaborator, teamed for a version of Buffett's "A Pirate Looks at Forty." Chesney previously shared the song on Instagram in a tribute to his friend. During this performance, the men sat on stools as photos of Buffett moved across the screen in the background.
Then Zac Brown Band and Alan Jackson stepped up for their own tribute to Buffett. Brown wore shorts, and Jackson donned a Hawaiian shirt and sunglasses in Buffett's honor as they sang "Margaritaville," followed by a new song, "Pirates and Parrots."
As for Joe Diffie's songs being revived at the CMA Awards – that was more unexpected. HARDY announced plans to release a tribute collection to Diffie in March, so the performance featuring HARDY, Morgan Wallen and Post Malone was a preview of what's to come. HARDY and Wallen sang Diffie's "John Deere Green" before Malone joined them for "Pickup Man."
HARDY said the recordings would include Diffie's vocals as well as new ones and that his version of "John Deere Green" and "Pickup Man" was out now.
There were so many collaborations that it might be easier to talk about the standout performances that were single artists than the ones that brought singers together – Dan + Shay ("Save Me The Trouble" complete with a knee slide), Kelsea Ballerini (the vulnerable "Leave Me Again") and Chris Stapleton (a soulful, searing "White Horse") come to mind as the night's best.
However, there were several duets that got people talking. Jelly Roll and Wynonna opened the show with his gospel-inspired "Need a Favor" backed by a church choir. Wynonna appeared a bit stiff, causing some people to worry if something was wrong, but later, she turned to social media to assure fans that she was just incredibly nervous because she wanted to do well for her friend Jelly Roll.
Fans got to see Jelly Roll in two collaborations Wednesday night as he and K Michelle closed the show with "Love Can Build a Bridge" in tribute to The Judds.
Megan Moroney and Old Dominion shared their new duet "Can't Break Up Now." Carly Pearce and Stapleton brought their "We Don't Even Fight Anymore" to life, performing on separate stages before joining at the end. Tanya Tucker and Little Big Town delivered a soulful, harmony-rich version of Tucker's first hit "Delta Dawn." Morgan Wallen and Eric Church brought "Man Made a Bar." And we can't forget the night's most prolific collaborators - show hosts Luke Bryan and Peyton Manning.