Morgan Myles Accentuates the Positive
Talks New Song "Acapella," the Power of a Hairbrush Song and More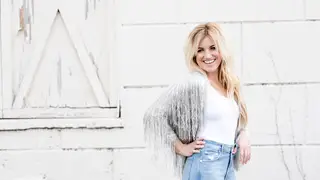 Morgan Myles has a gift that every musician wants. When she showcases her smoky powerhouse vocals live or on record, her audience is instantly transported into her creative world as she surrenders all feeling to her words and music.
"Since I was three years old, I'd sit down at the piano and just start singing and playing," Myles tells CMT.com. "I think it's just always been in my soul ... Music is my therapy, my passion and my happiness. It's never wavered."
After the release of 2016's Miss Morgan Myles EP, the Pennsylvania native and Nashville-based artist returns with "Acapella," a catchy soulful country tune about eliminating all the negativity in your life. It's the first release from a forthcoming project in the works with co-producers Corey Crowder and Jason Mater.
"We had written together so much that they already understood my country-soul-pop sound when it came time to record," she tells CMT.com. "They let my voice shine dynamically while also staying true to who I am as an artist. This is the first time that my live performance is captured on a record, which has always been a struggle for me in the past. I was so blown away every time I got another mix back; there were lots of good tears during the recording process, to say the least."
Scenes of downtown Nashville and the beautiful locals who make the city great are Myles' costars for the official "Acapella" video. Learn more about the rising artist below.
I wrote "Acapella" to be an empowering anthem with John Pierce and Corey Crowder. Most of my songs are about finding strength in some way. With "Acapella" I was inspired by a past situation where I had to realize that I'm the one in control of my happiness and not to let someone else's issues bring me down. I hope this song helps other people who need to find the strength to love themselves.
I could go on and on about my girl power anthems I rock out to in the morning, or rather, all day long! What I bust into when I wake up honestly depends on my mood for the day, but right now I love Danielle Bradbery's "Worth It," RaeLynn's "Queens Don't" and Maggie Rose's "Pull You Through."
I could name a few artists I've always wanted to work with; like Chris Stapleton, Leon Bridges, Andra Day, Aretha Franklin, Susan Tedeschi, Bonnie Raitt and Brothers Osborne would be just the beginning of my bucket list. One thing about soul-based artists, you just don't know where a performance can lead. It seriously gives you a natural high, that's why all my band members are soulful players. I could go on and on!
Being a singer-songwriter is a bittersweet thing because I have to be emotional and vulnerable to write a genuine song that connects to people. Then as an artist, I have to expose my heart and put myself out there, which can be scary. So when I get some validation that someone out there understands me, it keeps me going.
The most expensive concert ticket I ever bought was for a Whitney Houston show for my birthday when I was around 11. I spent the night outside of a Uni-Mart for the tickets, and yes, it was totally worth it. My friends and I all wore shirts that we spelled out 'Whitney' in puffy paints and she waved at us during the concert. Worth it!