CMT Premiere: Country-Latin Duo Kat & Alex Releases Heartwarming Music Video For "We Bought A House"
Kat & Alex: "Every time we do a new project, we try to always one-up what we did before. Every step we take, I feel like we're just growing."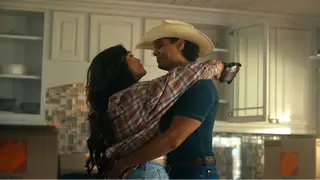 Husband-and-wife duo Kat & Alex would attest that house hunting can be daunting, but when the right one suddenly appears, a sense of home consumes you. The country-Latin couple captures the pure bliss that goes along with purchasing property in their latest single, "We Bought A House."
The genre-bending musicians penned the vulnerable track alongside critically acclaimed songwriters Josh Osborne and Lindsay Rimes. The "American Idol" alums pulled from their personal love story to cultivate the melody destined to tug at heartstrings. The sentimental storyline reflects the stage of life Kat & Alex are wrapped up in as they moved into their forever home in Tennessee.
"When we wrote it, we had just bought our house," shared Alex. "It feels like just yesterday we signed the closing on the house. The song talks about a young couple buying a home and all the things that come with it – dreams and aspirations. I feel like we're still living that right now, and we wanted to extend that feeling to the listener."
The duo teamed up with video director Patrick Tohill and producer Katie Babbage to convey the relatable narrative. Instead of hyper-focusing on their personal milestone, they decided to show others creating core memories in their brand-new homes. Kat & Alex told CMT that they held auditions for the state-of-the-art music video.
"This is the first time we ever brought in outside actors. The last time we had some actors in the music video, they were some friends," said Kat full of excitement. "This time, we went through a whole casting process and narrowed it down to some people. I thought I was in a movie."
Babbage found a wide age range that would perfectly bring their tender track to life. The clip features a senior couple, newlyweds, a family of four, and even a man with his furry friend. Alex shared that they initially wanted to film at their real-life home but decided to use a string of houses in a suburban neighborhood instead.
"It was not our house, but it looked pretty dang close to what it looked like on the inside," he pointed out. "We wanted to show all different walks of life."
As Alex displays his smooth baritone vocals, Kat explodes with her rich and textured sound. Their signature harmonies are on full display and their chemistry transcends through the small screen. The fast-rising artists wanted the music video to have an old-school feel. So, they pulled out a dated camcorder.
"When we first moved to Nashville, we were capturing things on Polaroid. We wanted to take a picture of every single milestone.  We got a little polaroid album sitting on our coffee table. People grab it and take a look. There are pictures from when we bought our first home, appliances, our first studio session, and when we got engaged," Kat explained. "So we wanted to capture that vintage feeling in the music video."
The lovebirds shared that they were hit with a wave of emotions after watching the final edit.
"There were a lot of emotions," said Alex while laughing. "It hit home. You see everything that you planned out finally coming to life. It came out exactly the way we wanted it to and better than we could ever imagine."
Kat & Alex hopes the music video encourages fans to surround themselves with loved ones or moves them to reconnect with the special people in their lives.
"There's nothing better than being surrounded by people you love. The visuals in the music video, it's a sense of just community. If they [the fans] are watching the video, I hope they hit somebody up like their mom and say, 'Hey mom, thinking about you,' or just look at the person next to them and hug them."
In true Kat & Alex fashion, the dynamic duo will be dropping a Spanish version of the song called, "Mi Casa." The bilingual trailblazers will keep up the positive momentum by dropping Side A of their self-titled EP on Sept. 16.
"These songs tell our stories, and it introduces us to the world not only as musicians but also as a couple," explained the promising act. "Sonically, Side A is a melting pot, which is true to who we are. You'll hear country, which is the root of it, as well as some rock, soul, and pop. Our relationship is full of love, and it's the core of everything we do."