Watch: Ashley McBryde Duets With Hard Rockers Halestorm On Powerful Version of "Terrible Things"
Halestorm singer Lzzy Hale said to elevate the heart of the track, they "asked the baddest woman in Nashville, Ashley McBryde" to lend her voice.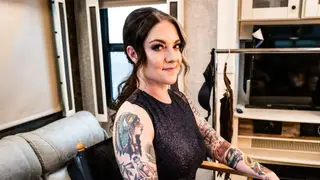 The "Light On In The Kitchen" singer joined GRAMMY-winning hard rock band Halestorm for a duet on "Terrible Things," which is from their album "Back From The Dead."
"I've loved Halestorm for longer than I can remember," McBryde said in a statement. "I thought my team was messing with me when they said Lzzy asked if I wanted to sing on 'Terrible Things' with them. But it turns out they were being serious, so of course I said yes. I am so happy to be on this track with Lzzy. She's a phenomenal human being and someone I continue to look up to."
Lzzy Hale, the band's singer, said "Terrible Things" is about "hope and forgiveness of one's self."
Lyrics include: I see terrible things| I see a sickness in a world on its knees| It will take what you love like a thief| But in my dreams I believe| We're not these| Terrible things
"To elevate the heart of this track, we asked the baddest woman in Nashville, Ashley McBryde, to lend her incredible voice," Hale said in a statement. "I'm so in awe of her power and am so grateful to have her join us! I know the message will resonate and inspire you. We are imperfect beings, capable of so much evil. But I will not lose faith because in my dreams I believe we are not these 'Terrible Things.'"
McBryde joins Hale in the song's video that approaches the heartache and danger of being homeless.
On the country side of things, McBryde's new song "Light On In The Kitchen" is also about hope and love.
McBryde wrote the song with Connie Harrington and Jessi Alexander in the summer of 2020. The pandemic was holding much of the world hostage, and people were stir-crazy. The women were tired of being stuck in their homes and started writing a song. McBryde said they started spilling their ideas on the table, and when Harrington said, "Light On In the Kitchen," the title struck a nerve.
"We all kind of stopped," McBryde said. "We decided that's what we were going to hunt with that day. I was like, 'Well, there's always a light on in my mama's kitchen, both of her sisters, both sets of grandparents, and there's always one on in mine. Then we started uncovering other things like the line about local honey will keep your nose from running."
She said they focused on the helpful little things from the women in their lives and that by the time they were finished writing, they were all crying "good tears."
McBryde said she sometimes texted her mom and told her she was headed to the stage and that she'll leave the light on. Her mom texts her back, saying, "The light is on, honey."
"How cool is that?" she said. "The song that that we made up now gets to gift my family a new way to say, 'I love you' or 'I'm thinking about you' or 'What you're doing right now matters to me no matter where it is on the planet.'"
"Light On In The Kitchen" is the first single from McBryde's forthcoming studio project.