Abi Talks Touring with Kelly Clarkson, Raw Emotion in "A Day Without"
Shares Personal Loss That Connects Her to New Single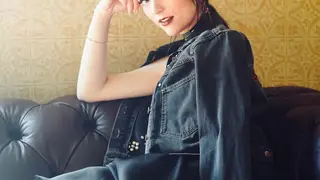 Rising artist Abi, 20-year-old Midland, Texas native and Nashville songstress, grew up with an adventurous father who encouraged her to follow her dreams no matter the repercussions.
She remembers him asking her, "How are you going to change the world?" With this profound gesture, Abi has always been motivated to make every song she writes serve a higher purpose.
"I would always tell him, 'Dad, you're being so dramatic,'" Abi tells CMT. "I think it's funny now; he really inspired me to not be like everyone else. I have such big dreams because he taught me it's OK."
Music is Abi's way of interpreting the world around her, and her father's legacy continues to live on through her songs. He died in January 2017 at age 67 after experiencing a series of heart problems. Abi's personal feelings of loss are channeled in her new single "A Day Without," the first release from her upcoming EP Heart Broken. The song was written by Lucie Silvas, Jimmy Robbins and the late Andrew Dorff, and while Abi never met Dorff, she instantly felt connected to the song's message.
"I've always loved Andrew's music, and I just wanted to honor him," she says. "That was actually the first song I cut for the new music. Jimmy ended up producing the song, and it's something I'm so proud of."
Abi just completed Heart Broken for a release later this year. Learn more about the rising ingénue below.
The "A Day Without You" video shows two relationships -- a boyfriend and a girlfriend; and a mother and a daughter -- going through pivotal moments in their lives. The boyfriend is going into the army, and the daughter is graduating. It's about their separation, and it forces you to think about the people you love.
There's even a little bit in the video with the mom and the daughter, and it's a photo of them with the dad where he's gone too. That for me always gets me choked up. But that was a special moment I wanted to inject in there, and it really makes it me.
I wrote my first song in third grade. I grew performing in musical theater in Los Angeles, and I had always been drawn to music. But at the time, my best friend and I had gotten into this huge fight. I had this instinct that I need to write my feelings down. I remember I wrote "Upside Down," and that became my first song. I think it's going to be the next hit.
My first Nashville gig was opening for Kelly Clarkson at the Bridgestone Arena on the Piece By Piece Tour. I did 36 dates opening up for her, and I still can't believe it. I graduated high school, and two months later, I was on a tour that I should not have been on. But that was the first time I played Nashville. It's so weird to me that I did that. I die for everything she does but that record; she's just so emotionally connected to her music. She's just an exemplary artist. I get chills thinking about it. It was a case of me being in the right place at the right time.
I grew up listening to Shania Twain. I think she is my love for country and pop. And Faith Hill. There are all these women that sonically explored, and I believe that their desire to be unconventional inspires me to do the same. I'm also a huge fan of Brandy Clark. I'm obsessed with her. She's so tongue-in-cheek, and I love that.
I want to be the kind of storyteller that can really serve the purpose of what music does to me. Personally, I cope, I heal and I learn from music. Somebody else's story can become mine so easily with music. Writing honestly, vulnerable and raw is what I do best.