EXCLUSIVE: Dolly Parton Featured In Two New Funko Pop! Rocks
The Dolly Parton Funko Pop! Rocks are available for preorder now.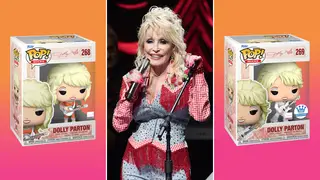 Dolly Parton is beloved worldwide for everything from her songs, movies and Dollywood theme park to her cake mixes, greeting cards and Imagination Library, which has distributed nearly 200 million free books to children since 1995. She was recently inducted into the Rock and Roll Hall of Fame and was a significant financial contributor to the research to develop COVID-19 vaccines. In November, Jeff Bezos honored Parton with his "Courage and Civility" award in recognition of her philanthropic work, which came with $100 million to give to a charity of her choice.
The reasons to admire the Sevier County, Tennessee, native are nearly endless. And now, thanks to Funko, Inc., fans have a new way to celebrate the philanthropic and entertainment icon in their homes.
Funko, Inc., the world's largest license proprietor, initially known for its light-hearted, quirky collection of bobbleheads, just announced plans to release two Dolly Parton figures.
The Dolly Parton Funko Pop! Rocks are available for pre-order now. The two designs are: Pop! Rocks: Dolly Parton Glastonbury 2014, a 4.37-inch vinyl figure of Parton clad in a white, sparkling pants suit with a silver glitter electric guitar for $15; and Pop! Rocks: Dolly Parton, a 4.50-inch vinyl figure of Parton in an orange pants suit strumming a banjo for $12.
Pop! Rocks: Dolly Parton Glastonbury 2014 is exclusive to Funko.com, while Pop! Rocks: Dolly Parton is available to pre-order on both Funko.com and Walmart.com.
"At Funko, we are always looking for innovative ways to not only surprise our devoted fanbase but grow our audience through new collections and exciting pop culture collaborations," said Emily Sly, Vice President of Funko Marketing. "We understand that everyone is a fan of something, and we pride ourselves in the ability to authentically provide something for everyone. By thoughtfully expanding our products across music, film, television, sports and more, the brand continues to be the go-to pop culture destination for fans, allowing Funatics to represent their favorite fandoms through the lens of Funko collectibles."
Given the depth and breadth of Parton's reach, she falls squarely into Funko fandom, making her likeness ideal to be captured by Funko!
"Through her heart-felt music, genuine soul and authenticity, Dolly Parton continues to inspire generations across the globe, including the team at Funko," said Ryann Meikle, Concept Lead. "Known for her unforgettable performances and dazzling attire, Funko wanted to pay homage to the music icon by leaning into the outfits fans will never forget. Now, Funko.com will feature two Pop! figures of the music icon, one of which spotlights the show-stopping ensemble from her record-breaking performance at the 2014 Glastonbury Festival."
Funko was founded in 1998 by Mike Becker, who anchored the company with bobblehead figures. Brian Mariotti bought Funko! In 2004 and subsequently introduced Funko Pop! Figures for which Funko is known. Funko's calling card is its instantly identifiable products, which pay homage to the characters and megastars it honors. The company designs, sources, and distributes merchandise based on some of the world's most identifiable faces across multiple categories, including vinyl figures, board games, action toys, plush, apparel, housewares, NFTs, vinyl records, posters, accessories and more.
As for Parton, while she recently revealed plans to step back from touring, she isn't slowing down. The "I Will Always Love You" singer recently hosted a New Year's Eve special with Miley Cyrus, starred in another Christmas movie, was inducted into the Rock and Roll Hall of Fame, is planning to release a rock album, just released a duet with Cheat Codes and revealed a new rollercoaster at Dollywood theme park in Pigeon Forge, Tennessee. The $25 million ride will open this spring and is the largest single attraction investment in the park's history.