Watch: Zach Bryan Details Circumstances Leading Up To His Arrest
"I wanted to be completely transparent about what happened yesterday with me getting arrested," Bryan said in the video. "I don't want the internet to do what the internet does and make stuff up."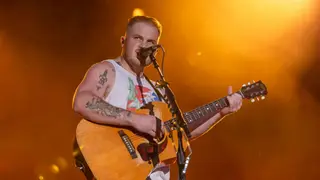 Zach Bryan and Kacey Musgraves may top the Billboard Hot 100 chart at the moment with their song "I Remember Everything," but his booming popularity wasn't enough to keep him out of jail on Thursday when he ran into trouble with the Oklahoma Highway Patrol.
Bryan posted a video to Twitter overnight explaining that his behavior is not indicative of him as a person – but that he did mouth off to Oklahoma police twice at traffic stops over three days. The first time, he was nearly arrested but talked his way out of it. The second time, he wasn't as lucky. Bryan said he spent several hours in jail Thursday.
"I wanted to be completely transparent about what happened yesterday with me getting arrested," Bryan said in the video. "I don't want the internet to do what the internet does and make stuff up."
The singer was taken to the Craig County Sheriff's Office in Vinita, Oklahoma, had a mug shot taken, and was booked on an obstruction of investigation charge Thursday, according to online records.
However, Bryan said the trouble began days before when he was pulled over in a small town in Oklahoma for doing four or five miles over the speed limit. The police officer asked for his driver's license, registration and address. Bryan refused to give the officer his address, he said, because he is a musician and wasn't comfortable with it. The officer told him if he didn't give him his address, he was going to take him to jail. Bryan got out of the car, and the officer handcuffed him. The men talked more calmly, and Bryan gave him his address. The officer removed the cuffs and let Bryan go with a warning.
On Thursday, Bryan, an Oklahoma native, told his security guard he planned to go to Boston to watch a sports game. They started driving with the security guard following the singer. About 40 minutes from Bryan's house, the security guard was pulled over in another traffic stop. Bryan circled the block and pulled up to wait. Ten or 15 minutes later, Bryan said he became frustrated the traffic stop was taking so long and got out of the car to smoke. He said the police officer told him to get back in his car or he was going to take him to jail. Bryan argued with him.
"Like a dumbass, I said, 'Take me to jail, what do you mean?'" Bryan said. "I got too lippy with him. I didn't help my situation at all. I felt like a child."
Eventually, Bryan found himself in handcuffs again for mouthing off to a police officer for the second time in three days. This time, the officer did take him to jail.
He said by the time he got to the Craig County Sheriff's Office in Vinita, Oklahoma, he had calmed down and that everyone there was kind to him. He spent several hours in jail, and by the time he left, he and the arresting police officer had had a pleasant conversation.
He still has to deal with the situation's legalities but said he wanted to share his side of the story before untruths started getting reported.
"I'm an idiot," he said. "I'll take the fall for it. I'm a grown man."