Country Stars React to Christmas Day Explosion in Nashville
Carrie Underwood, Tim McGraw, Chris Young, Brad Paisley and More Share Heartfelt Words for Music City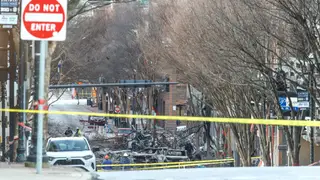 In a year already filled with turmoil, tornadoes and tourists refusing to stay away during the pandemic, Nashville added another tragedy on Christmas Day when an explosion rocked downtown's 2nd Avenue, just steps away from the honky-tonks on Lower Broadway and only a block away from CMT's Nashville offices.
Nashville Mayor John Cooper told CBS' Face the Nation that the 6:30 a.m. bombing on Dec. 25 was an attack on infrastructure. The explosion went off outside the AT&T building which led to cell service outages across the city, and flights were grounded at the Nashville airport. As of Sunday morning, a motive had not been released by investigators.
As the news continued to come in over the holiday weekend, country stars -- most of whom live outside the city limits -- were praying for peace and filled with gratitude for the first responders.
The six police officers who evacuated the buildings surrounding the explosion are being hailed as Nashville's heroes: Officer Brenna Hosey, Officer James Luellen, Officer Michael Sipos, Officer Amanda Topping, Officer James Wells and Sergeant Timothy Miller.
For updated details on the recovery efforts and the outages, see AT&T's statement here.