Five at Five: Chris Young Details Kane Brown Collaboration + Margo Price Produces Jessi Colter's Next Album
Five Things to Know in Country Music for May 13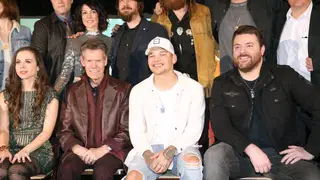 Give us a minute, and we'll give you five things you need to know in country music. It's your new fix for all the latest headlines in one place. Here's what you need to know for Monday (May 13):
Lady Antebellum Las Vegas Residency
Lady Antebellum's Dave Haywood, Charles Kelley and Hillary Scott resumed the Our Kind of Vegas residency over the weekend to capacity crowds at the Palms Casino Resort's Pearl Concert Theater. Every night, the group highlights a longtime friend and songwriter in a collaborative in-the-round performance. This week, the group welcomes Dave Barnes, the hit-maker behind "God Gave Me You" by Blake Shelton, "Cry Pretty" by Carrie Underwood and "Craving You" by Thomas Rhett. Performances resume Wednesday (May 15), and tickets are available through Ticketmaster.
Chris Young and Kane Brown Collaboration
Just because you're overseas, doesn't mean work stops while you're gone. Kane Brown recorded his vocals for a new Chris Young collaboration on Young's Raised on Country album.
Margo Price Produces Jessi Colter's Next Album
Odds are this pairing will sound outstanding. Price and Colter confirmed in a series of posts that Price is the producer of Colter's next album. The last time Colter released new material was 2017's The Psalms.
Marquita Gets a Car Thanks to Walker Hayes' Nonprofit
One of the first recipients of Walker Hayes' Be A Craig Fund is Marquita. Fan donations through his nonprofit raised enough money to purchase her a new car. Hayes started the fund to use his platform for good after once receiving a van for his growing family from a Samaritan named Craig at a time he needed it most.
Wildwood Grove Preview at Dollywood
At the cost of $37 million, Dollywood's new Wildwood Grove expansion is the largest capital investment in the theme park's 33-year history. According to CMT Radio, the latest addition features 11 new attractions including a suspended 453-meter roller coaster called The Dragonflier.