Blake Shelton Talks Reprioritizing His Life For More Time With Gwen Stefani and His Stepsons
Blake Shelton: "I've had people say, 'Man, come on. You're not quitting The Voice [to do] nothing!' But I really am."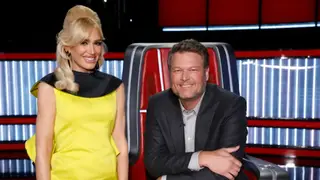 Blake Shelton is rearranging his priorities for two reasons – his stepsons and flower seeds.
Shelton, who married Gwen Stefani in the summer of 2021, told People that gardening was how he and Stefani bonded apart from music and that he is a huge part of her sons' lives.
"We go way over-the-top," Shelton told People, explaining they have grown multiple gardens of zinnias and sunflowers, but the Icelandic lilies were less successful. It's embarrassing how much we spend on seeds. Besides music, gardening has been our biggest bonding activity."
Shelton, who has been a coach on "The Voice" since the show launched in 2011, recently announced the competition's next season would be his last. It's a decision he has pondered off and on for years. But now, with his new family, he said he has more to live for than just himself and his career.
"The holdup over the years has been that it's a hard thing for me to let go of," Shelton told People. "I've been here literally since the first minute. When I started on 'The Voice,' that was 10 years into my career as a country artist. I never really made it to the A-level of country artists until I became a coach. The show did a hell of a lot more for me than I brought to the table at the time. I've far exceeded anything I thought I could ever accomplish in the entertainment world."
He explained to People that he and Stefani have traveled and worked so much the first half of their lives that now they want to wear sweatpants and watch "Ozark" at 6 p.m.
"That's our life now, and we love it," he said.
He also loves being a stepparent to Stefani's three sons, Kingston, 16, Zuma, 14, and Apollo, 8, whom she shares with Bush frontman Gavin Rossdale. If Shelton doesn't step back from his career now, he said he knows he's risking missing some more important things in life.
"For now, that's our kids," he said. "This isn't about me anymore and never will be again. Even though I'm a stepparent, I take that job very seriously. The kids see me as a very important person in their life. (When they ask,) 'Why isn't Blake here?' I take that stuff to heart. I've made plenty of money, but you can't buy time back. I don't want any regrets."
But leaving "The Voice" doesn't mean he's abandoning television altogether. He and Carson Daly have a new game show called "Barmageddon" on USA Network.
"I've had people say, 'Man, come on. You're not quitting The Voice [to do] nothing!' But I really am. Please, I'm accepting ideas," he told People. "I have Barmageddon — we can do a whole season in a couple weeks, and it's a blast for me — and my Lands' End clothing line. It's time to push some of this [work] stuff out and let more family and personal life in."