WATCH: Mickey Guyton Teams With Heavy Metal Band Metallica To Perform "Nothing Else Matters" In NYC
Mickey Guyton: "Last night was a moment I'll never forget."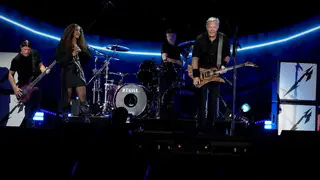 Mickey Guyton has proved yet again that she's a force to be reckoned with.  
The genre-bending powerhouse teamed up with heavy metal band Metallica at the Global Citizen Festival in New York City over the weekend (Sept. 24). Guyton appeared at the festival earlier in the day but stuck around to partake in Metallica's Central Park set and to perform their 1991 smash hit "Nothing Else Matters." 
The Grammy Award-winning ensemble comprised of James Hetfield, Lars Ulrich, Kirk Hammett, and Robert Trujillo welcomed the country hitmaker with open arms and left their headbanging audience in pure disbelief. 
"This next song, I hope you know. It's kind of a feel-good if you want it to be," shared Hetfield. "We have a friend coming out here. She did this song on the 'Blacklist' album, which is the 30-year anniversary of the 'Blacklist' album. She was very kind to show up and do her version of this here song," he added before Guyton stepped under the spotlight. 
Guyton shared a warm embrace with each band member before jumping into the mid-tempo track without hesitation. While sporting a black silk dress and knee-high boots, she confidently tackled the introduction as heavy percussion and exhilarating electric guitar riffs backed her robust vocals. It wasn't until the familiar chorus that the old-school band joined in, creating concert-goers to explode with excitement. 
 "So close, no matter how far | Couldn't be much more from the heart | Forever trusting who we are| And nothing else matters | Never opened myself this way | Life is ours, we live it our way | All these words I don't just say," delivers Guyton with extraordinary strength in her voice. "Trust I seek and find in you | Everyday, for us, something new | Open mind for a  different view | And nothing else matters." 
Following the unexpected surprise in the Big Apple, Guyton turned to social media to share snapshots from the memorable moment and to thank the icons for the opportunity. 
"There are no words. I'm just grateful @metallica. #GlobalCitizenFestival," she wrote alongside a string of photos on Twitter. "Nothing else matters. So much love for @metallica and their incredible team. Last night was a moment I'll never forget," she added on Instagram. 
Country music and Metallica fans alike praised Guyton for their jaw-dropping rendition and mighty stage presence. 
"Duet of our dreams❤️❤️❤️❤️," gushed a follower. "Mickey, you are a QUEEN❤️ THIS IS AMAZING," said a devoted listener. "Absolutely fantastic, congratulations. Historical 🎸" added another. 
Before the trailblazer rubbed elbows with Metallica and checked the collaboration of her bucket list,  she performed fan favorites in the heart of Manhattan to drive the festival's initiative to "defeat poverty."
 The first annual Global Citizens event was held in 2012. Since then, the organization has taken over 30 million actions and raised over $41.1B for 1.15 billion individuals in need. The star-studded lineup also included Mariah Carey, Charlie Puth, the Jonas Brothers, and more. 
Guyton recently released "Somethin' Bout You," a heartwarming love song she penned alongside Tyler Hubbard and David Garcia. The reminiscent single serves as the first of three new songs that are expected from the Texas native. The country mainstay will perform next with Russell Dickerson at the Gainbridge Fieldhouse in Indianapolis on Oct.  27.