Love Rising: Sheryl Crow, Maren Morris, Jason Isbell and More Create Colorful Show to Support Tennessee's LGBTQ+ Community
Pics: More than a dozen drag queens joined The Highwomen on stage as they sang "Crowded Table."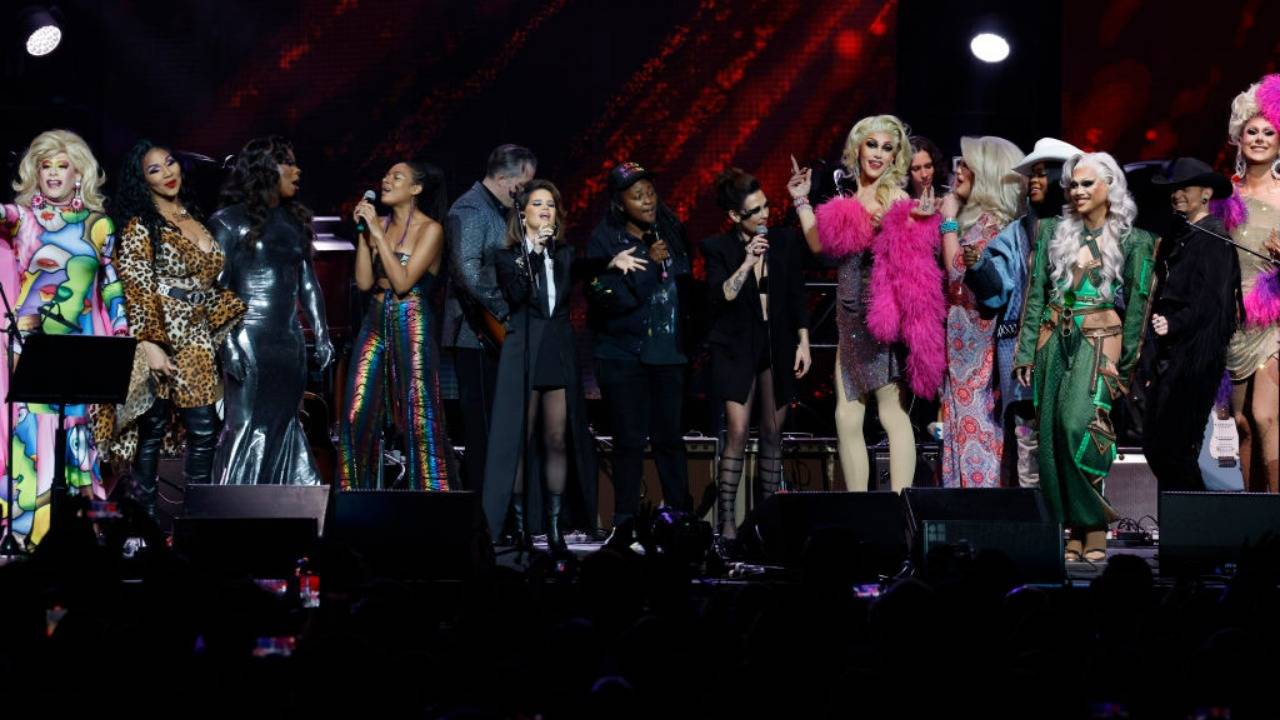 Tennessee may have passed a bill earlier this month restricting adult cabaret performances in public or the presence of children. Still, drag queens filled the stage alongside some of music's biggest stars at Nashville's Bridgestone Arena Monday night to celebrate support for the LGBTQ+ community.
Sheryl Crow, Maren Morris, Jason Isbell, Hayley Williams, Hozier, Brittany Howard, Amanda Shires, Julien Baker, Joy Oladokun, Yola, Fancy Hagood, Jake Wesley Rogers, Mya Byrne, Allison Russell, and the  Rainbow Coalition Band are among the artists who played LOVE RISING, a benefit concert for the Tennessee Equality Project, inclusion tennessee, OUTMemphis and The Tennessee Pride Chamber.
"My favorite thing about living in Nashville and being a Tennessean is the community," Hagood said Tuesday morning. "Along with our straight allies, last night I was reminded just how diverse and rich in culture our beautiful queer community is in Tennessee. The legislation that is taking place in our state is harmful to our state as a whole. Trans lives, black lives, drag queens, queer people are a vital part of this state, and we aren't going anywhere."
In addition to restricting the adult cabaret performances, the bill also bans them from occurring within 1,000 feet of schools, public parks, or places of worship. In addition, a separate legislation that bans transgender minors in Tennessee from receiving gender-affirming care like puberty blockers, hormones, and surgery was also passed.
Maren Morris is determined to be heard – and raise her son in an inclusive environment. Morris took the stage multiple times Monday night. She performed The Highwomen hit "Crowded Table" alongside band member Amanda Shires with Allison Russell and Joy Oladokun. When the quartet of women walked out to sing, a parade of drag queens joined them.
"Yes, I introduced my son to some drag queens today," Morris quipped. "So Tennessee … arrest me."
On Tuesday, Morris posted: Thank you Nashville, the gorgeous Queens and the LGBTQ+ community for showing up last night. A HUGE thank you to @allisonrussellmusic , @aharnell + @nashvillehk for pulling off the unthinkable at Bridgestone. A lot of healing happened and it won't be forgotten. 🏳️‍🌈🏳️‍⚧️"
The show lasted for hours and included Crow singing "Hard to Make a Stand" and "Everyday is a Winding Road," Isbell on "Cover Me Up" and "Keep on Smilin" and Hozier with "Nina Cried Power" and "Take Me To Church."
"This is a statement about what kind of world we want to live in, living our free truth … and that we don't let politicians inflict their fear story on any of us," Crow told the thousands of people in the audience.
When Isbell took the stage later in the show, he added: "Everybody deserves to be free to love yourself for who you are. You can't really love someone else until you love who you are, so that should be available to everyone."
While Brandi Carlile wasn't in town, she and her family sent a video of encouragement that was played during the show. And her Looking Out Foundation matched donations up to $100,000,000.