Shania Twain Talks Inspiration Behind Topless Cover Art For Single "Waking Up Dreaming"
Shania Twain's go-to stylist explains each look in her '80s-inspired music video for "Waking Up Dreaming" – WATCH!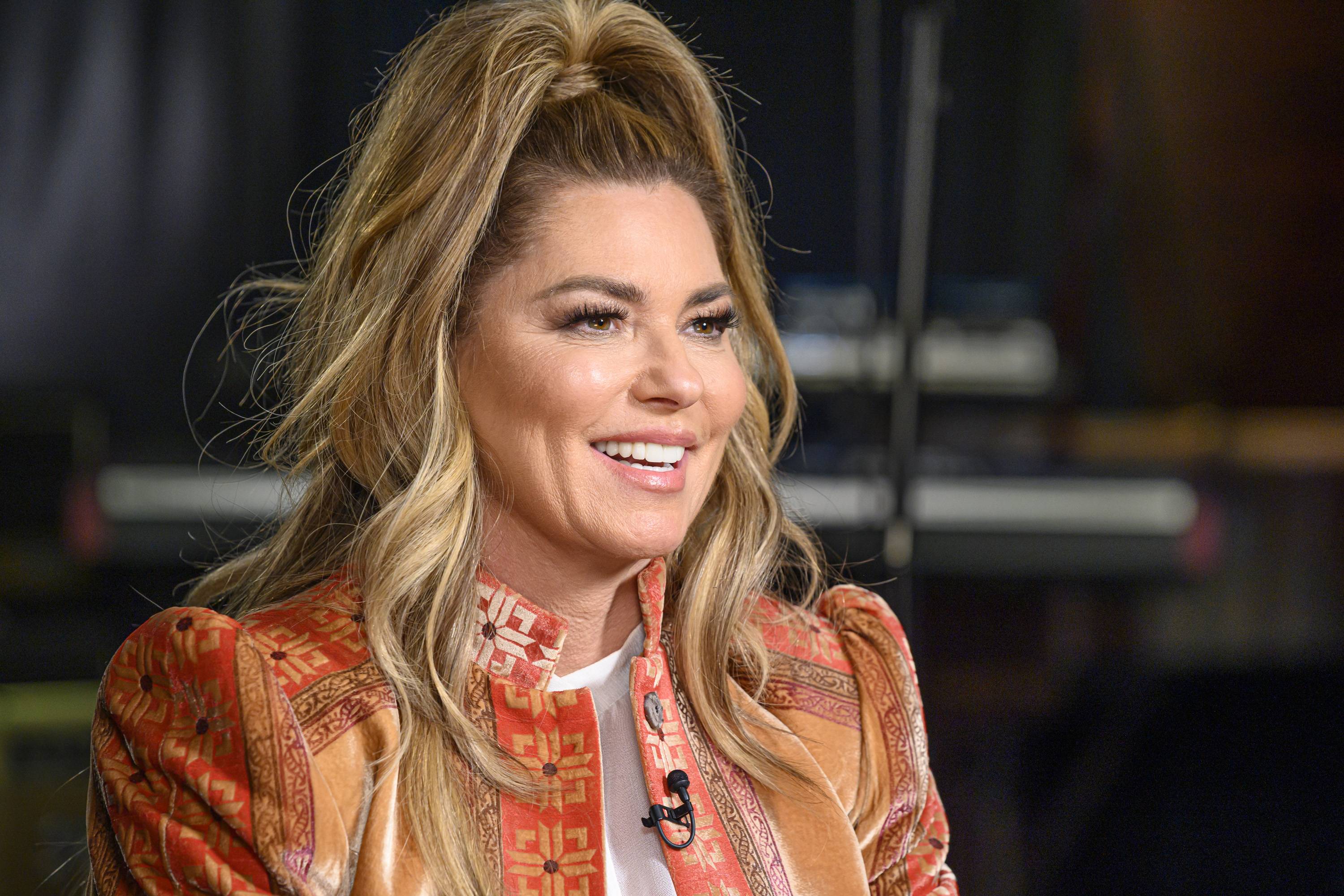 Shania Twain has been making massive statements since 1993, when she first released her debut single, "What Made You Say That." Not much has changed for the top-selling female country artist, as she still marches to the beat of her own drum and takes risks. 
The legend caught up with "The Sun" to discuss the risqué cover art for her recently released (Sept. 23) track, "Waking Up Dreaming." The eye-catching snapshot features the singer-songwriter shirtless, covering her top half and sporting a white silk button-down around her waist. To bring her '80s-country flair to the forefront – Twain slipped on groovy multi-colored stilettos, that match perfectly with the title of the single printed in script.  
The "I'm Gonna Getcha Good" trailblazer said it was her idea to go topless in the shoot to stress body positivity. 
"I styled that photograph myself. It was all about taking off the bra, taking off the shirt, tying the shirt around my waist," Twain explained to the publication. "This is a statement of being comfortable in my own skin and just being really myself," she noted. 
With every brave move, comes critics. However, Twain revealed that she doesn't let the hateful comments or backlash get under her skin. 
"You have to be strong," uttered the fearless hitmaker. "I never really get angry with criticism. You can't please everybody, that's normal." 
The same free-spirited mentality is displayed in the "Waking Up Dreaming" music video, where the 57-year-old shows off her glamorous superstar side. Throughout the attention-grabbing clip, Twain channels her internal '80s rocker with outrageous wardrobe changes. While delivering the country-pop anthem, Twain intermingles with her bandmates in a retro-style green room and makes her way into the limelight to display her powerhouse vocals in a fire red wig. 
"So let's start wakin' up dreamin' | And dress up crazy like superstars| There ain't no shakin' this feelin' | Tonight, we're makin' our way to Mars | Way up higher than we've ever been| No, we won't stop at the ceilin' | So let's keep wakin' up dreamin'" she sings while embracing pure moments with her devoted entourage. 
Twain penned the playlist-worthy anthem alongside critically acclaimed songsmiths David Stewart and Jessica Agombar. "Waking Up Dreaming" serves as Twain's debut single with Republic Nashville and first single since 2017. Twain called in friend and frequent collaborator Marc Bouwer to turn her rock 'n' roll vision into a reality in the state-of-the-clip. 
"She really loves having me on the set, and we really have become close collaborative friends," Bouwer told 'WWD.' "I have traveled all over the world with her. We shot 'Ka-Ching!' and 'Up' in Madrid and then 'I'm Going to Get You Good' in London."
The South African fashion designer is Twain's go-to stylish and has worked closely on her "Come on Over," "From This Moment On," "That Don't Impress Me Much," and "Man! I Feel Like a Woman" music videos. To push the narrative along, Bouwer dressed Twain in three eye-catching ensembles that respect late musicians Prince, David Bowie, Debbie Harry, and Cyndi Lauper. The group shot the film at a Toronto studio with director Isaac Rentz. 
"Waking Up Dreaming" marks the first single from her forthcoming collection. She classified the highly anticipated project as "very chirpy," "very frank," and an overall "happy album." The vocalist has not confirmed the official release date.