PICS: Country Music's Biggest Stars Celebrate Christmas With Friends And Family
Lee Brice, Reba McEntire, Cole Swindell, Thomas Rhett, and more share a glimpse into their holiday weekend.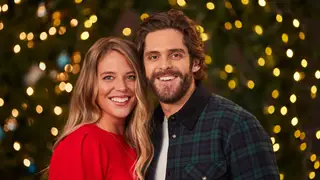 A handful of country A-listers made Santa's good list this year.
Hitmakers and Nashville newcomers celebrated the festive holiday in Music City or fled to their home state to surround themselves with loved ones. While some nuzzled alongside a blazing fire with a warm cup of hot cocoa or slipped on Christmas-themed pajamas, others embraced the true meaning of the holiday by maintaining religious traditions. 
See what your favorite artists unwrapped this season by scrolling and checking out CMT's Christmas roundup.
"Happy Holidays! Wishing everyone peace, joy, and prosperity in the new year! Thank you so much for love and support you've shown our family…We appreciate you all so much and can't wait to see y'all in 23! God Bless…," said Lee Brice.
"Merry Christmas! Thankful for our salvation in Christ, & the love God poured out on his people by sending his son to die on a cross for our sins. We are not worthy!" shared Barrett. "Have a blessed & joyful day in remembrance Out King ❤️"
"I hope your holiday season is filled with frame-worthy memories!" shared McEntire.
"Had ourselves a Merry "Little" Christmas," shared Swindell. "Thinking of everyone out there missing someone today. Thankful for Courtney and her family for letting me spend it with them in NC. Happy Birthday, JC," added the hitmaker.
"Nothing better…From our fam to yours, Marry Christmas #blessed #MerryChristmas #girldad," said Young.
"Merry Christmas from Nashville♥️," wrote Carly Pearce
"A tale as old as time…Merry Christmas folks 🎄," said ERNEST.
"Merry Christmas from the Breland family to yours 🎄," said the breakout out star alongside a soulful video. " 'Have Yourself A Merry Little Christmas' arranged by me. Give baby Cash about 5 years, and he'll have a part too lol ❤️🎁"
"Merry Christmas Eve y'all! I hope everyone is enjoying a good time with your families! Love y'all!" said Rhett.
"The only Christmas sweater I need!!! @miketyson," shared Rucker.
"Sending love and light. Merry Christmas 🎄🎅," said Ballerini.
"Lela's forgiveness reminds me of Jesus. What a wonderful day to read this sentence," said Hayes. "An angel of the Lord said to Joseph…'She will bear a son, and you shall call his name Jesus, for he will save his people from their sins.' I am so grateful TRUE forgiveness was born because I desperately need it! Thank you God! 🙏 let's goooooooooo💪💪💪Merry Christmas y'all."
"Merry Christmas everyone!!!!!! Hope everyone is full and happy!!! @summer_pardi," said Pardi.
"Merry Christmas and happy holidays to all!" said Kelley. "Our coldest Christmas in Florida yet 🤠🌊."
"Merry B*tchmas 🎄," said Morris.