Adele Shares Hilarious Reaction To Seeing Shania Twain In The Audience At Her Las Vegas Residency
Shania Twain has included more dates to her international "Queen Of Me" tour – Check it out!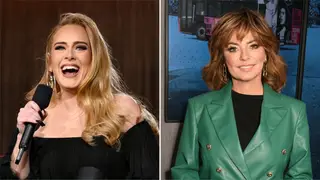 Music sensation Adele was recently left dead in her tracks when she recognized a familiar face in her audience.
The "Oh My God" singer recently kicked off her highly anticipated residency in Sin City. After postponing the show for nearly 10 months, the superstar took center stage at the Colosseum at Caesar's Palace and performed for more than 4,000 fans and Shania Twain.
Adele did not notice the country legend until after the memorable show, but the platinum-selling artist had a full-blown fan-girl moment when she did.
The GRAMMY Award winner turned to social media over the weekend (Nov. 27) to share her relatable reaction. The action shot featured Adele in an eye-catching black gown and Twain sitting in the front row wearing a cowgirl hat that nonchalantly protected her identity.
"Thank god you had a hat on @shaniatwain. I would have self-combusted had I seen it was you!!" Adele wrote alongside the photo on her Instagram story. "I adore you, I can't believe you came to my show❤️."
Twain was quick to fire back on her personal account. While re-sharing the candid response and Adele's photo, she addressed the situation.
"Thank god we didn't make eye contact, all I can think of is the reaction of all those fans to @adele combusting halfway through the show 😂," Twain added.
The action-packed affair was slated to open in January, but the state-of-the-art production was not ready for fans to enjoy. Adele broke the news with a tearful apology.
"Listen, I'm so sorry, but my show ain't ready," she previously declared. "We've tried absolutely everything that we can to pull it together in time and for it to be good enough for you, but we've been absolutely destroyed by delivery delays and COVID," she added.
Just a day before the original opening night, she said: "I'm gutted, and I'm sorry it's so late minute. We've been awake for over 30 hours now trying to figure it out, and we've run out of time."
Although the hitmaker told Elle that the process has been "the worst moment in her career by far," the show came together. "Weekends With Adele – Las Vegas Residency" is expected to run through March 25, 2023, and will include buzz-worthy performances of fan favorites from her decade-long career.
It was no surprise that Twain made a visit to Las Vegas, as she recently wrapped her critically acclaimed residency in September. While at the Zappos Theater at Planet Hollywood Resort & Casino, Twain joined forces with Live Nation Las Vegas and Caesars Entertainment to present a whopping donation of $150,000 to Shania Kids Can.
While having multiple projects in the works, Twain took a break to enjoy the crazy city during Thanksgiving.
"I'm taking this holiday weekend as an opportunity to pause, relax and have a bit of fun during my busy schedule," said Twain. "I'm feeling very grateful for everything happening right now – getting to share even more new music with you all very soon (😉), working on the creative direction for my Queen Of Me tour…the People's Choice awards…Beauty and the Beast (!!!)…gosh, so much – I'm thankful II get to share this with all of you❤️."
The country-pop singer announced (Nov. 28) new tour dates, in response to the high demand.
The new shows included are Bethel, N.Y., on July 3 and New Orleans on July 24. She will also be making more stops in the U.K. and Canada. Tickets will go on Sale Friday, Dec. 2, at 10 AM local time. For more information,  visit shaniatwain.com.