Jelly Roll Plans To Donate $250K Worth Of Music Resources To A Juvenile Detention Center
Jelly Roll: "I felt like it was important to start addressing the problem hands-on, at a community level."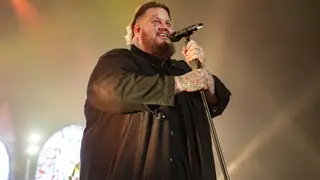 Country-rocker Jelly Roll [Jason DeFord] is giving back to his community. 
The "Son of A Sinner" singer revealed that he's donating a whopping $250,000 to the Davidson County Juvenile Detention Center in Nashville, Tennessee. 
In partnership with the non-profit Impact Youth Outreach, the generous contribution will go towards a recording studio and music programs for incarcerated and underserved youth. Jelly Roll's music initiative does not come as a surprise as he spent time in the unit as a child. 
The heavily tattooed singer was only 14 years old when he started to make questionable decisions, leaving him in and out of the juvenile justice system. According to The Tennessean, the hitmaker is slated to fund five $10,000 scholarships for graduating seniors in Davidson County. He will also participate in the food and toy drive alongside Impact Youth Outreach during the holiday season. 
"Nashville is a town that people come and take from," said Jelly Roll at a recent press conference at Bridgestone Arena. "They come, and they party. They make the best memory of their life right here on Broadway…They come, and they chase their dreams. They join the medical field. They become big musicians in the music industry and make millions of dollars. But they never give back."
He continued to express why he wanted to make a difference. 
"As a local kid, I felt like it was important to start addressing the problem hands-on, at a community level," he noted. 
The rapper turned country breakout star served time in jail as a teenager and in his early 20s for aggravated robbery and possession with intent to sell charges. He hopes building the "Jelly Studio" in the institution will keep incarcerated children out of trouble and inspire them to learn a skill that can benefit them in the future. 
Once developed, he would like his industry friends to partake in his positive initiative and share their knowledge with aspiring musicians. 
"Music is my passion, so it's the first thing that I know how to bring to people," he shared with the publication. "Kids are killing each other… it's just getting sad. As a community, we have to stand up, and we have to do something about it. I'm challenging my musician friends: To come from your ivory tower, get [out] from behind your guitar, roll your sleeves up and…see the problems we have in this community." 
To place his viewpoint into perspective for others, he painted a clear picture, "While you're ridin' up and down Broadway, makin' a quarter-million dollars a show, I'd like you to see the side of the city that can't afford dinner…To see the side of Nashville that didn't make all the TV shows." 
The singer-songwriter told the outlet that he would eventually like to expand his philanthropic efforts beyond Nashville and aid neighboring centers in need of resources. 
Jelly Roll is set to take Nashville's Bridgestone Arena on Dec. 9, 2022, for a benefit concert. 100 percent of the proceeds will go towards the building process. The friendly giant confirmed that he would match the profits with his own money. For tickets and more information, visit jellyroll615.com.