Bailey Zimmerman Talks Removing His Braces And Finding The Fast Track To Success
"I was like, 'Mom, I quit my job.' And she was like, 'What?' And I was like, 'Yeah, I quit my job because, look, I've got these streams.'"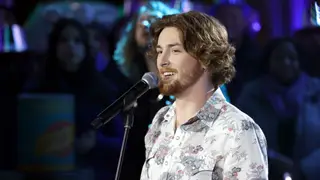 Bailey Zimmerman's debut EP, "Leave The Light On," was the biggest streaming country debut in history and the most-streamed all-genre debut of 2022.
In hindsight, Zimmerman could owe his success to a $7,000 gamble he took when he went against the orthodontist's recommendation and had his braces removed early.
In 2020, the 22-year-old was singing to a few people in his Illinois hometown when another singer walked in and asked him if he had ever tried to sing professionally. When Zimmerman said no, the man told him that his braces were giving him a lisp and that if he had them removed, he might have a shot at being a successful artist.
Zimmerman told Kelleigh Bannen on Today's Country that he already had an orthodontist appointment booked the following day and approached the subject with the doctor – who wasn't in agreement.
"I had an orthodontist appointment to get 'em tightened up, but I told him, 'Take 'em off,'" Zimmerman recounted. "And they were like, 'You know, this will cost your mom like $7,000, and your teeth aren't good. Like, they're not perfect.' And I was like, 'Don't care, take 'em off.'"
About one week later, he wrote his first song and then posted it on TikTok. People clamored to hear it, driving up the views. Zimmerman quit his job the next day. Then he had to tell his mom.
"I was like, 'Mom, I quit my job,'" Zimmerman recalled. "And she was like, 'What?' And I was like, 'Yeah, I quit my job because, look, I've got these streams.' And she was like, 'Okay, then what are you gonna do next?' I'm like, 'I don't know, but I'm just gonna keep doing the thing. I gotta get this recorded somehow.'"
Warner Music Nashville announced they had signed Zimmerman in April of 2022. He already had 100 million streams to his credit. Since then, he released his debut EP, had a No. 1 song, headlined his first tour and flown on a private jet for the first time. He had to call his mom and tell her about that, too.
"It's crazy," he said of boarding the plane. "You don't have to go through security. You feel so weird. Like, you just walk through, and you get on a plane (and it feels like) you're seriously breaking the law. It was like, 'What the heck?' So then I call my mom, I'm like, 'Dude, I'm on a freaking private jet right now. Like, this is crazy, man.'"
The private plane isn't the only thing that impresses the young man. He finds his daily life in Music City hard to believe, too.
"It's a blast," he said of his newfound fame. "It's crazy. All the things that I've gotten to do over the last couple years are things that I never thought that I would be doing. Especially just living in Nashville. I wake up in Nashville every day, and I'm like, 'This is insane, man. Like, this is not normal. Like, this is not a normal thing, you know?' And it's just really cool."
He said he discovers new career milestones to celebrate regularly.
"I don't really know what's going on still today," Zimmerman said. "I wake up, and there's more like records we've broke, or there's more streams, or we're doing really big things, but it doesn't feel like that. I still feel really normal, and I still feel like, 'holy freaking crap.' Like, what is even going on? I'm me, and I'm just releasing music."