CMT Premiere: The Cadillac Three Turns "Love Like War" Into a Love Lesson Worth Fighting For
The Cadillac Three: "After we watched (the video), we said that this is the video we've been trying to make for 15 years."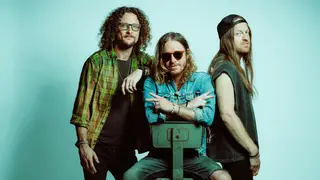 The Cadillac Three's Jaren Johnston wrote the trio's "Love Like War" after a particularly bad argument with his wife.
Now, the group has turned the highly personal song into their favorite video they've ever made.
"Every video has a vibe, and the vibe this day was laid back and focused," the group explained of why the clip is their favorite. "The director & team (Hannah Hall & Weird Candy) crafted a unique take on the song and video that we couldn't have come up with without them. Second, we love a video where we aren't the main characters!"
Members explained taking themselves out of the spotlight for the video made sense because the song has so much emotion, and they wanted to lean heavily on a narrative to illustrate the song in a new way.
"That allowed us to bring in great actors and, for the most part, sit back and enjoy watching the creation of the video," they said. "The 'Love Like War' video brings our song to life by reimagining the story we wrote it about."
Because the story was so personal to Johnston, they thought following its exact narrative was too "nail on the head."
"We are fans of music videos that take a different angle than is expected," they said. "When Hannah presented us with the storyline, it felt like a perfectly unique take on how messy and chaotic love can be. It touched all the raw emotions the song was written from but from a completely different angle."
When fans watch the video, the group hopes that people see "love comes in all forms" and that viewers realize "fighting for what you want in life is worth it."
The Cadillac Three got chills when they watched the video for the first time.
"It's shot beautifully, and it covers a lot of emotional ground in four minutes," they said. "After we watched it, we said that this is the video we've been trying to make for 15 years."
Johnston wrote the song alone, and the trio produced the track. Hannah Gray Hall directed the video, and Alex Berger produced it.